Silencing Satan: Handbook of Biblical Demonology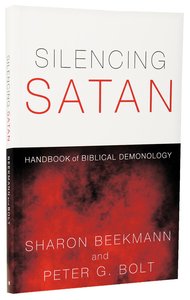 Silencing Satan: A Handbook of Biblical Demonology is about the nature and strategies of Satan and the demons, and their defeat through the life, death, and resurrection of our Lord and Savior Jesus Christ. The book is for Christians in ministry, whether seminarians, pastors, Bible teachers, Christian counselors, or lay leaders. It is for all who desire an informed faith relevant to supernatural evil and the Gospel of Jesus Christ. Each chapter reflects extensive research and is succinctly written to enable believers to quickly grasp biblical truths that expose the lies and half-truths propagated by popular culture, within and outside the church. The authors teach that when face to face with supernatural evil in its various guises--apparitions, voices, sensations, false doctrine, and immoral temptations--believers resist the devil and reflexively turn to Jesus and Scripture. They fight by living a radical life of faith, expressed through love and obedience to Christ. As they do, God himself redeems the evil that Satan intends for his vainglory. God is building his church, and the gates of hades will not prevail against her (Matt 16:18)!

- Publisher
You May Also Be Interested In
About "Silencing Satan: Handbook of Biblical Demonology"
Silencing Satan: A Handbook of Biblical Demonology is about the nature and strategies of Satan and the demons, and their defeat through the life, death, and resurrection of our Lord and Savior Jesus Christ. The book is for Christians in ministry, whether seminarians, pastors, Bible teachers, Christian counselors, or lay leaders. It is for all who desire an informed faith relevant to supernatural evil and the Gospel of Jesus Christ. Each chapter reflects extensive research and is succinctly written to enable believers to quickly grasp biblical truths that expose the lies and half-truths propagated by popular culture, within and outside the church. The authors teach that when face to face with supernatural evil in its various guises--apparitions, voices, sensations, false doctrine, and immoral temptations--believers resist the devil and reflexively turn to Jesus and Scripture. They fight by living a radical life of faith, expressed through love and obedience to Christ. As they do, God himself redeems the evil that Satan intends for his vainglory. God is building his church, and the gates of hades will not prevail against her (Matt 16:18)!
- Publisher


Meet the Authors
Peter G Bolt
Dr Peter Bolt (Ph.D., King's College, University of London) is Head of the Department of New Testament at Moore Theological College, Sydney. He is the author of Jesus' Defeat of Death: Persuading Mark's Readers(Cambridge, 2003); The Cross from a Distance: Atonement in Mark's Gospel( New Studies in Biblical Theology 18 IVP, 2004); Living With The Underworld (Matthias Media, 2008); Matthew (Reading the Bible Today, Aquila Press) and See How We Died: A Biblical Theology of Mortality (NSBT InterVarsity). He is also the editor of, and contributor to the 2008 Moore College School of Theology published in Christ's Victory over Evil: Biblical theology and pastoral ministry.
Koorong -Editorial Review.
Sharon Beekmann
Sharon Beekmann is an ordained minister in the Evangelical Presbyterian Church. She is author of Enticed by the Light. She preaches, teaches, and conducts seminars for churches through Sharon Beekmann Ministries.