Silencing Satan: Handbook of Biblical Demonology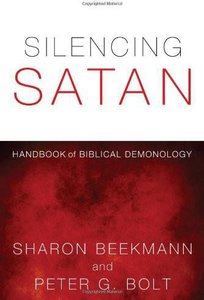 The 13 lessons of this study guide help Christians develop an informed faith about supernatural evil and the gospel of Jesus Christ. Each lesson refers the reader to significant teachings in Silencing Satan: Handbook of Biblical Demonology. In the book, the authors teach about the nature and strategies of Satan and the demons, and their defeat through the life, death, and resurrection of Jesus Christ. They advocate resisting the devil in his various guises--apparitions, voices, sensations, false doctrine, and immoral temptations--by reflexively turning to Jesus Christ and Scripture. The authors expose the half-truths and lies propagated by popular culture. They caution not to fill in gaps of understanding with extra-biblical sources.

- Publisher
You May Also Be Interested In
About "Silencing Satan: Handbook of Biblical Demonology"
The 13 lessons of this study guide help Christians develop an informed faith about supernatural evil and the gospel of Jesus Christ. Each lesson refers the reader to significant teachings in Silencing Satan: Handbook of Biblical Demonology. In the book, the authors teach about the nature and strategies of Satan and the demons, and their defeat through the life, death, and resurrection of Jesus Christ. They advocate resisting the devil in his various guises--apparitions, voices, sensations, false doctrine, and immoral temptations--by reflexively turning to Jesus Christ and Scripture. The authors expose the half-truths and lies propagated by popular culture. They caution not to fill in gaps of understanding with extra-biblical sources.
- Publisher


Meet the Author
Sharon Beekmann
Sharon Beekmann is an ordained minister in the Evangelical Presbyterian Church. She is author of Enticed by the Light. She preaches, teaches, and conducts seminars for churches through Sharon Beekmann Ministries.