Silencing the Accuser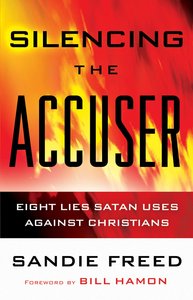 Many Christians are unaware of the lies Satan, the accuser, whispers in their ears. Not only does he accuse believers, but he deceives them concerning their relationships with God and also their identities, and he speaks falsely concerning God and his love for his children.

Using the Old Testament story of Job, author Sandie Freed exposes our ancient enemy and the multiple ways he manipulates believers. With her trademark transparency and warmth, Freed encourages those struggling with a sense of hopelessness, a negative self-image, or a season of attacks--to name just three. She shows readers how to root out and overcome the negative thoughts the accuser plants, arming them with battle-tested prayer strategies to silence him and his deadly whisperings forever.

- Publisher
You May Also Be Interested In
About "Silencing the Accuser"
Many Christians are unaware of the lies Satan, the accuser, whispers in their ears. Not only does he accuse believers, but he deceives them concerning their relationships with God and also their identities, and he speaks falsely concerning God and his love for his children.

Using the Old Testament story of Job, author Sandie Freed exposes our ancient enemy and the multiple ways he manipulates believers. With her trademark transparency and warmth, Freed encourages those struggling with a sense of hopelessness, a negative self-image, or a season of attacks--to name just three. She shows readers how to root out and overcome the negative thoughts the accuser plants, arming them with battle-tested prayer strategies to silence him and his deadly whisperings forever.
- Publisher


Meet the Author
Sandie Freed
Sandie Freed and her husband, Mickey, are the founders and directors of Zion Ministries in North Richland Hills, Texas. She is an ordained prophetess with Christian International and travels extensively, ministering deliverance and life transformation to God's people. She is the author of four books, including Destiny Thieves and Strategies from Heaven's Throne, and has been a featured guest on James Robison's Life Today and Daystar's Celebration. Most recently she has authored Conquering the Antichrist Spirit and Breaking the Threefold Demonic Cord.