Silent Grief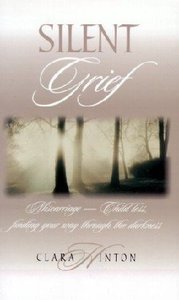 Miscarriage has touched almost every home, although it's rarely talked-about. It's the invisible pain.. Even couples who are very close and on sure footing find it too upsetting to discuss.In Silent Grief, author Clara Hinton knows what she's talking about. Experiencing the heartbreak of child loss firsthand, she tackles this universal tragedy by talking with women and men who have dealt with miscarriage. These interviews shed much light on the debilitating effects of child loss, including consuming guilt, depression, and strained marriages.Acknowledging that God is the ultimate healer of hurting families, the author shows through her interviews and personal experiences that there is hope for functioning through child loss. But the goal goes beyond that, to help families be happy again, and look forward to the future.

- Publisher
You May Also Be Interested In
About "Silent Grief"
Miscarriage has touched almost every home, although it's rarely talked-about. It's the invisible pain.. Even couples who are very close and on sure footing find it too upsetting to discuss.In Silent Grief, author Clara Hinton knows what she's talking about. Experiencing the heartbreak of child loss firsthand, she tackles this universal tragedy by talking with women and men who have dealt with miscarriage. These interviews shed much light on the debilitating effects of child loss, including consuming guilt, depression, and strained marriages.Acknowledging that God is the ultimate healer of hurting families, the author shows through her interviews and personal experiences that there is hope for functioning through child loss. But the goal goes beyond that, to help families be happy again, and look forward to the future.
- Publisher


Meet the Author
Clara Hinton
Clara Hinton is a motivational speaker, author of many books including Silent Grief, certified bereavement facilitator, and resiliency coach. She speaks often and leads workshops on the topic of coping skills for grief relief. She has experienced first-hand the grief associated with sibling loss, child loss, and grandchild loss. She shares ways to stay focused on life's goals and how to turn obstacles into pathways to success. It is her passion to share this knowledge with you!
Table Of Contents
Contents

Introduction

Part I - In The Valley

1. I'm Sorry

2. It Hurts So Badly

3. "where Are My Friends?"

4. "nobody Cares"

Part Ii - A Life On The Mend

5. "this Really Did Happen"

6. People Care; They Just Don't Understand

7. "i Still Wish I Had My Child"

8. "i Can Feel!"

9. The Sun Does Shine

10. Seeing Beyond Today

11. The Hope Of Someday

Final Thoughts P. 191