Simon Peter in Scripture and Memory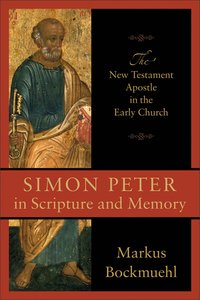 After Jesus, Peter is the most frequently mentioned individual both in the Gospels and in the New Testament as a whole. He was the leading disciple, the "rock" on which Jesus would build his church. How can we know so little about this formative figure of the early church?

World-renowned New Testament scholar Markus Bockmuehl introduces the New Testament Peter by asking how first- and second-century sources may be understood through the prism of "living memory" among the disciples of the apostolic generation and the students of those disciples. He argues that early Christian memory of Peter underscores his central role as a bridge-building figure holding together the diversity of first-century Christianity. Drawing on more than a decade of research, Bockmuehl applies cutting-edge scholarship to the question of the history and traditions of this important but strangely elusive figure. Bockmuehl provides fresh insight into the biblical witness and early Christian tradition that New Testament students and professors will value.

- Publisher
You May Also Be Interested In
About "Simon Peter in Scripture and Memory"
After Jesus, Peter is the most frequently mentioned individual both in the Gospels and in the New Testament as a whole. He was the leading disciple, the "rock" on which Jesus would build his church. How can we know so little about this formative figure of the early church?

World-renowned New Testament scholar Markus Bockmuehl introduces the New Testament Peter by asking how first- and second-century sources may be understood through the prism of "living memory" among the disciples of the apostolic generation and the students of those disciples. He argues that early Christian memory of Peter underscores his central role as a bridge-building figure holding together the diversity of first-century Christianity. Drawing on more than a decade of research, Bockmuehl applies cutting-edge scholarship to the question of the history and traditions of this important but strangely elusive figure. Bockmuehl provides fresh insight into the biblical witness and early Christian tradition that New Testament students and professors will value.
- Publisher


Meet the Author
Markus Bockmuehl
Markus Bockmuehl (PhD, University of Cambridge) is a fellow of Keble College and professor of biblical and early Christian studies at the University of Oxford. He previously taught at the University of Cambridge and the University of St. Andrews. He is the author or editor of a dozen books, including Seeing the Word, Jewish Law in Gentile Churches, Philippians (Black's New Testament Commentary series), This Jesus: Martyr, Lord, Messiah, and editor of The Cambridge Companion to Jesus, and translator and editor of Stemberger's Introduction to the Talmud and Midrash.
Table Of Contents
Introduction
part 1: Peter In Canon And Memory
1. Simon Peter . . . In Living Memory?
2. The New Testament Peter: An Overview
part 2: Peter In The "living Memory" Of East And West
3. The Eastern Peter
4. The Western Peter
part 3: History And Memory--two Case Studies
5. How Peter Became A Disciple
6. From Unlikely Birthplace To A Global Mission
concluding Observations
indexes