Sinners in the Hands of a Good God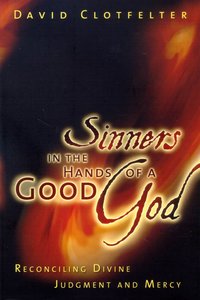 Are heaven and hell real? How does God's election correspond to our freedom? Why did Jesus have to die? Why doesn't God save everybody? These are questions most believers and seekers have asked, and they are biblically answered by author David Clotfelter. Contrasting the theologies of Jonathan Edwards with George MacDonald, the author reconciles the difficult doctrines of divine judgment and predestination. Sure to be a thought- and discussion-provoking message.

- Publisher 350 Pages

- Publisher
You May Also Be Interested In
About "Sinners in the Hands of a Good God"
Are heaven and hell real? How does God's election correspond to our freedom? Why did Jesus have to die? Why doesn't God save everybody? These are questions most believers and seekers have asked, and they are biblically answered by author David Clotfelter. Contrasting the theologies of Jonathan Edwards with George MacDonald, the author reconciles the difficult doctrines of divine judgment and predestination. Sure to be a thought- and discussion-provoking message.
- Publisher

350 Pages
- Publisher


Meet the Author
David Clotfelter
David Clotfelter is the English pastor of the Chinese Christian Alliance Church in Northridge, California, and has been in pastoral ministry almost continuously since 1987. He and his wife, Lisa, have two teenage children.
Table Of Contents
acknowledgments

introduction:  The Struggle To Understand God's Justice

part 1:  Under His Judgment

1. The Soul That Sins, It Shall Die

2. Forever And Ever

3. The Light Of Israel Will Become A Fire

part 2:  At His Mercy

4. His Choice, My Choice

5. Not Of Human Will Or Exertion

6. He Who Began A Good Work

part 3:  Within His Embrace

7. The Chastisement That Brought Us Peace

8. Redemption Through His Blood

9. The Riches Of His Glory

conclusion:  Loving A Just And Holy God

appendix:  A Letter To "seekers"

index Of Topics

index Of Scriptures
Excerpt
Excerpt from: Sinners in the Hands of a Good God
We do well to keep in mind that the person who is esteemed by God is not the one who waxes eloquent as he develops one biblical idea to the detriment of others, but the one who is humble and contrite in spirit and who "trembles" at God's word (Isa. 66:2). We may not always find it easy to reconcile the various truths of the Bible. Nevertheless, we must humbly keep in check both our desire for logical consistency and our outrage at truths we do not like. God will no doubt reward our search by giving us ever-greater insight into the relationships among the truths He has revealed about Himself. We may be quite sure that all that God does is, in fact, logical and self-consistent. But we should not presume to reject that which we have not had the patience or humility to accept on God's terms.