Sister Wit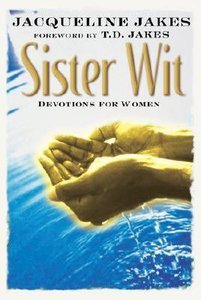 Featuring a combination of powerful devotions and inspirational quotes for meditation, "Sister Wit" addresses all the trials and triumphs that encompass a woman's life. Jacqueline Jakes explores four areas of life -- struggles and troubles, virtues, encouragement, and inspiration -- and the ways in which they affect us. She draws upon childhood lessons, insights she learned while coping with a life-threatening illness, and the general wisdom of the ages, challenging us to make the most of our lives.

- Publisher Designed to deliver uplifting and hopeful messages, this inspirational collection of devotionals is written specifically for women.

- Publisher 256 Pages

- Publisher A true friend comforts you in times of trouble---but she also tells you when it's time to quit whining and "make the most of the hand you've been dealt"! Jacqueline Jakes is that kind of friend. In this warm heart-to-heart devotional, she provides daily biblical inspiration---and down-to-earth sisterly advice---for women everywhere.

- Publisher
You May Also Be Interested In
About "Sister Wit"
Featuring a combination of powerful devotions and inspirational quotes for meditation, "Sister Wit" addresses all the trials and triumphs that encompass a woman's life. Jacqueline Jakes explores four areas of life -- struggles and troubles, virtues, encouragement, and inspiration -- and the ways in which they affect us. She draws upon childhood lessons, insights she learned while coping with a life-threatening illness, and the general wisdom of the ages, challenging us to make the most of our lives.
- Publisher

Designed to deliver uplifting and hopeful messages, this inspirational collection of devotionals is written specifically for women.
- Publisher

256 Pages
- Publisher

A true friend comforts you in times of trouble---but she also tells you when it's time to quit whining and "make the most of the hand you've been dealt"! Jacqueline Jakes is that kind of friend. In this warm heart-to-heart devotional, she provides daily biblical inspiration---and down-to-earth sisterly advice---for women everywhere.
- Publisher


Meet the Author
Jacqueline Jakes
Jacqueline Jakes is the sister of well-known African-American author and speaker Bishop T.D. Jakes. She has had over 30 years of experience in printing, publishing and public relations. She currently serves as News and Publications Director for both Potter's House and T.D. Jakes Ministries. She is also editor-in-chief of the Potter's House Times and Get Ready magazine, publications of Bishop Jakes's organization.