Slaying the Dragons: Destroying the Myths in the History of Science and Faith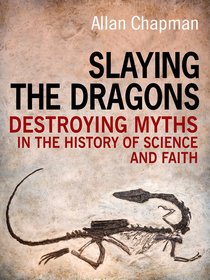 This important study examines popular misunderstandings about key events in the history of science-faith relations. Lively and often surprising, it covers the major episodes such as Galileo's trial, the Wilberforce-Huxley debate and the Scopes trial of 1925, but also looks further back through the medieval period to the Classical age, revealing how these events have acquired mythical and misleading status. Allan Chapman, lecturer at the University of Oxford, exposes the facts that have been forgotten and the contemporary opinions that have been supplanted by modern propaganda.

- Publisher
You May Also Be Interested In
About "Slaying the Dragons: Destroying the Myths in the History of Science and Faith"
This important study examines popular misunderstandings about key events in the history of science-faith relations. Lively and often surprising, it covers the major episodes such as Galileo's trial, the Wilberforce-Huxley debate and the Scopes trial of 1925, but also looks further back through the medieval period to the Classical age, revealing how these events have acquired mythical and misleading status. Allan Chapman, lecturer at the University of Oxford, exposes the facts that have been forgotten and the contemporary opinions that have been supplanted by modern propaganda.
- Publisher


Meet the Author
Allan Chapman
Allan Chapman teaches history of science in the University of Oxford. He is a Fellow of the Royal Astronomical Society and author of ten books.
Table Of Contents
This Important Study Examines Popular Misunderstandings About Key Events In The History Of Science-faith Relations. Lively And Often Surprising, It Covers The Major Episodes Such As Galileo's Trial, The Wilberforce-huxley Debate And The Scopes Trial Of 1925, But Also Looks Further Back Through The Medieval Period To The Classical Age, Revealing How These Events Have Acquired Mythical And Misleading Status. Allan Chapman, Lecturer At The University Of Oxford, Exposes The Facts That Have Been Forgotten And The Contemporary Opinions That Have Been Supplanted By Modern Propaganda.