Slow Church: Cultivating Community in the Patient Way of Jesus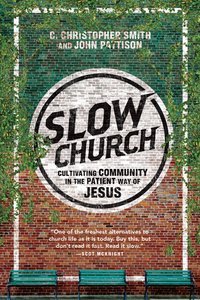 Fast food. Fast cars. Fast and furious. Fast forward. Fast . . . church?The church is often idealized (or demonized) as the last bastion of a bygone era, dragging our feet as we're pulled into new moralities and new spiritualities. We guard our doctrine and our piety with great vigilance. But we often fail to notice how quickly we're capitulating, in the structures and practices of our churches, to a culture of unreflective speed, dehumanizing efficiency and dis-integrating isolationism. In the beginning, the church ate together, traveled together and shared in all facets of life. Centered as they were on Jesus, these seemingly mundane activities took on their own significance in the mission of God. In Slow Church, Chris Smith and John Pattison invite us out of franchise faith and back into the ecology, economy and ethics of the kingdom of God, where people know each other well and love one another as Christ loved the church.

- Publisher
You May Also Be Interested In
About "Slow Church: Cultivating Community in the Patient Way of Jesus"
Fast food. Fast cars. Fast and furious. Fast forward. Fast . . . church?The church is often idealized (or demonized) as the last bastion of a bygone era, dragging our feet as we're pulled into new moralities and new spiritualities. We guard our doctrine and our piety with great vigilance. But we often fail to notice how quickly we're capitulating, in the structures and practices of our churches, to a culture of unreflective speed, dehumanizing efficiency and dis-integrating isolationism. In the beginning, the church ate together, traveled together and shared in all facets of life. Centered as they were on Jesus, these seemingly mundane activities took on their own significance in the mission of God. In Slow Church, Chris Smith and John Pattison invite us out of franchise faith and back into the ecology, economy and ethics of the kingdom of God, where people know each other well and love one another as Christ loved the church.
- Publisher


Meet the Authors
John Pattison
John Pattison is a member of the National Book Critics Circle. His essays, articles, and reviews have appeared in the Burnside Writers Collective, where he serves as Deputy Editor, as well as in newspapers around the country. He is a regular contributor to Relevant Magazine and Relevant Online. He lives in Oregons Willamette Valley with his wife, Kate, and his daughter, Molly. There is a pond next to their house with fish, ducks, geese, and a mythical beaver that no human has ever seen.
Table Of Contents
:foreword

Introduction

1 A Theological Vision For Slow Church

First Course: Ethics

2 Terroir: Taste And See

3 Stability: Fidelity To People And Place

4 Patience: Entering Into The Suffering Of Others

Second Course: Ecology

5 Wholeness: The Reconciliation Of All Things

6 Work: Cooperating With God's Reconciling Mission

7 Sabbath: The Rhythm Of Reconciliation

Third Course: Economy

8 Abundance: The Economy Of Creation

9 Gratitude: Receiving The Good Gifts Of God

10 Hospitality: Generously Sharing God's Abundance

11 Dinner Table Conversation As A Way Of Being Church

Conclusion

Recommended Reading

Notes