Slow Moon Rising (A Cedar Key Novel Series)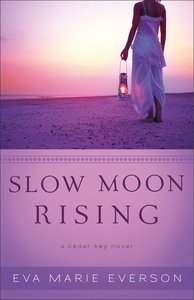 Cedar Key has long been a place of rest, healing, and release in the Claybourne family. But it might also be the birthplace of a lie that is poisoning the family from within. Join the strong Claybourne women--Anise, Kimberly, Jayme-Leigh, Heather, and Ami--as they each confront the truth. Their unique paths will lead them through heartbreak, misunderstandings, and pain. But their journeys will also bring reconciliation with each other and renewed love in their own lives.

In her lyrical, evocative fashion, Eva Marie Everson weaves a tapestry of complicated relationships that, when complete, reveals the most beautiful work of art there is--family.

- Publisher
You May Also Be Interested In
About "Slow Moon Rising (A Cedar Key Novel Series)"
Cedar Key has long been a place of rest, healing, and release in the Claybourne family. But it might also be the birthplace of a lie that is poisoning the family from within. Join the strong Claybourne women--Anise, Kimberly, Jayme-Leigh, Heather, and Ami--as they each confront the truth. Their unique paths will lead them through heartbreak, misunderstandings, and pain. But their journeys will also bring reconciliation with each other and renewed love in their own lives.

In her lyrical, evocative fashion, Eva Marie Everson weaves a tapestry of complicated relationships that, when complete, reveals the most beautiful work of art there is--family.
- Publisher


Meet the Author
Eva Marie Everson
Linda Evans Shepherd and Eva Marie Everson are both award-winning authors, successful speakers, radio personalities, and avid readers of fiction. They are the popular authors of The Potluck Club, The Potluck Club--Trouble's Brewing, and The Potluck Club--Takes the Cake. They've also led numerous Bible studies and women's retreats and still find time to be wives and mothers. Linda lives in Longmont, Colorado, and Eva lives in Casselberry, Florida.
Other Titles In The "A Cedar Key Novel" Series