Smith Wigglesworth on Prayer, Power and Miracles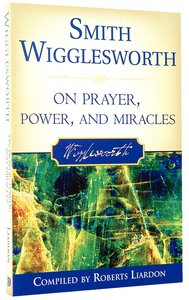 This is a collection of powerful sermons given by world-renowned evangelist and healer, Smith Wigglesworth. The material - never before released in a single volume - recounts inspiring stories of miraculous healings and challenging sermons on faith, dating from 1915 to 1944. The result - a classic collection of the late Smith Wigglesworth's teachings, expressing his exuberant love of the Gospel through his unshakeable faith in the power of the Holy Spirit.
In this single volume, you will discover how to:

- be bold in your faith
- pursue the power of God
- reach an incredible scriptural depth of inspiration for healing
- believe and act on faith

The components of faith, walking in faith, and building a living faith based on the Word of God are boldly explained through the words of a man who live and shared his faith daily. You will understand Smith Wigglesworth's passion and desire that all believers receive the baptism of the Holy Spirit, because, as he taught, "God has baptised us in the Holy Spirit for a purpose; that He might show His power in human flesh."

This is one of the most remarkable books you will ever read. Its timeless truths are certain to change your life forever.
- Publisher
You May Also Be Interested In
About "Smith Wigglesworth on Prayer, Power and Miracles"
This is a collection of powerful sermons given by world-renowned evangelist and healer, Smith Wigglesworth. The material - never before released in a single volume - recounts inspiring stories of miraculous healings and challenging sermons on faith, dating from 1915 to 1944. The result - a classic collection of the late Smith Wigglesworth's teachings, expressing his exuberant love of the Gospel through his unshakeable faith in the power of the Holy Spirit.
In this single volume, you will discover how to:

- be bold in your faith
- pursue the power of God
- reach an incredible scriptural depth of inspiration for healing
- believe and act on faith

The components of faith, walking in faith, and building a living faith based on the Word of God are boldly explained through the words of a man who live and shared his faith daily. You will understand Smith Wigglesworth's passion and desire that all believers receive the baptism of the Holy Spirit, because, as he taught, "God has baptised us in the Holy Spirit for a purpose; that He might show His power in human flesh."

This is one of the most remarkable books you will ever read. Its timeless truths are certain to change your life forever.
- Publisher
- Koorong

This is a motivating, provocative look at the awesome potential trapped within you, waiting to be realized. This book will cause you to be uncomfortable with your present state of accomplishment and dissatisfied with resting on your past success. Includes a study guide for personal or group use.
- Publisher

Using the original words of Smith Wigglesworth edited in simple, easy-to-grasp nuggets-Smith Wigglesworth on Prayer will inspire, motivate and shed insight on the topic of prayer. You will be intrigued to find fresh material that hasn't been available since the 1920s.
- Publisher


Meet the Author
Smith Wigglesworth
Smith Wigglesworth, often referred to as the Apostle of Faith, was one of the pioneers of the Pentecostal revival that occurred a century ago. Without human refinement and education he was able to tap into the infinite resources of God to bring divine grace to multitudes. Thousands came to Christian faith in his meetings, hundreds were healed of serious illnesses and diseases as supernatural signs followed his ministry. A deep intimacy with his heavenly Father and an unquestioning faith in God's Word brought spectacular results and provided an example for all true believers of the Gospel. - Publisher.