Smuggler's Treasure (#03 in The Wall Series)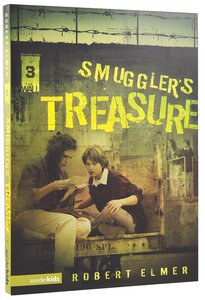 In post-World War II Germany, tensions mount in Berlin, the former capital city now in Soviet-controlled territory but still governed in part by the western allies, creating an isolated enclave in a hostile land. Robert Elmer's three-book generational series for kids unfolds against the backdrop of Cold War Berlin - gripping adventures in which three young teens, connected by family, faith, and friendship, struggle to hold on to life and each other, their lives brutally separated by the Berlin Wall. Willi and Sabine's daughter, Liesl, is just trying to understand history in this exciting conclusion of The Wall trilogy. The Cold War seems to be thawing - albeit slowly - in the Berlin of 1989, although it's not easy to visit Uncle Erich on the East German side of the city. As she works on a school project about the wall, she stumbles onto a startling secret about her American grandfather, thanks to a boy from Wyoming. But Liesl soon finds that there are physical walls and then there are emotional walls ... and she despairs of ever knowing the whole story - until events of enormous historical importance change her family's history forever.



- Publisher
You May Also Be Interested In
About "Smuggler's Treasure (#03 in The Wall Series)"
In post-World War II Germany, tensions mount in Berlin, the former capital city now in Soviet-controlled territory but still governed in part by the western allies, creating an isolated enclave in a hostile land. Robert Elmer's three-book generational series for kids unfolds against the backdrop of Cold War Berlin - gripping adventures in which three young teens, connected by family, faith, and friendship, struggle to hold on to life and each other, their lives brutally separated by the Berlin Wall. Willi and Sabine's daughter, Liesl, is just trying to understand history in this exciting conclusion of The Wall trilogy. The Cold War seems to be thawing - albeit slowly - in the Berlin of 1989, although it's not easy to visit Uncle Erich on the East German side of the city. As she works on a school project about the wall, she stumbles onto a startling secret about her American grandfather, thanks to a boy from Wyoming. But Liesl soon finds that there are physical walls and then there are emotional walls ... and she despairs of ever knowing the whole story - until events of enormous historical importance change her family's history forever.


- Publisher


Meet the Author
Robert Elmer
Robert is the author of two updated spiritual classics, Practicing God's Presence and Rediscovering Daily Graces (NavPress) and co-author of Off My Case for Kids (Zondervan/HarperCollins) with Christian apologist Lee Strobel. He is a graduate of Simpson College and St. Mary's College in California, with a B.A. degree in communications and Bible, as well as an elementary teaching credential. He has also written fiction for adults--Like Always, The Duet, The Recital, and The Celebrity, as well as seven popular youth fiction series, including The Wall, with combined sales of over a half million.
Other Titles In The "The Wall Series" Series View All