So Great Salvation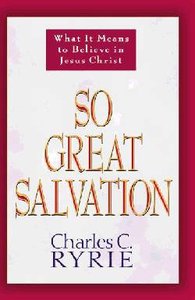 1. Grace At Camp 2. Semantics Alert 3. Straw Men 4. What Is The Gospel? 5. Fruitful Or Faithless 6. What Is Carnality? 7. Of Course He Is Lord 8. The Eye Of A Needle 9. Repent! About What? 10. Disciples Come In All Sizes And Shapes 11. T's Not Easy To Believe 12. The Verdict: Not Guilty 13. Secure And Sure Of It 14. Bringing Many Sons To Glory
- Publisher
What is the Gospel? Confusion about the Gospel is a serious problem of tremendous magnitude. It's not just semantics. It's the eternal difference between heaven and hell. But there is Good News. Follow along in this scholarly yet readable work as Dr. Ryrie carefully explains what the Bible has to say about salvation, discussing man's hopeless state before meeting Jesus, God's grace in saving us, and our call to obedience as we walk with Him. In So Great Salvation, Dr. Ryrie also addresses many questions raised by those who hold to the lordship salvation position. Does Jesus have to be the Lord of every area of our lives before we are saved? What about backslidden Christians? What is 'easy-believeism?' Join Dr. Ryrie as he studies the important topic of salvation. Discover how God's grace is all we need to enter the kingdom of heaven
- Publisher
You May Also Be Interested In
About "So Great Salvation"
1. Grace At Camp 2. Semantics Alert 3. Straw Men 4. What Is The Gospel? 5. Fruitful Or Faithless 6. What Is Carnality? 7. Of Course He Is Lord 8. The Eye Of A Needle 9. Repent! About What? 10. Disciples Come In All Sizes And Shapes 11. T's Not Easy To Believe 12. The Verdict: Not Guilty 13. Secure And Sure Of It 14. Bringing Many Sons To Glory
- Publisher


What is the Gospel? Confusion about the Gospel is a serious problem of tremendous magnitude. It's not just semantics. It's the eternal difference between heaven and hell. But there is Good News. Follow along in this scholarly yet readable work as Dr. Ryrie carefully explains what the Bible has to say about salvation, discussing man's hopeless state before meeting Jesus, God's grace in saving us, and our call to obedience as we walk with Him. In So Great Salvation, Dr. Ryrie also addresses many questions raised by those who hold to the lordship salvation position. Does Jesus have to be the Lord of every area of our lives before we are saved? What about backslidden Christians? What is 'easy-believeism?' Join Dr. Ryrie as he studies the important topic of salvation. Discover how God's grace is all we need to enter the kingdom of heaven
- Publisher
Meet the Author
Charles C Ryrie
Charles C. Ryrie received his Master of Theology and doctor of Theology degrees from Dallas Theological Seminary, and his PhD from the University of Edinburgh. He was also awarded a Doctor of Letters degree by Liberty Baptist Theological Seminary in Lynchburg, Virginia. Ryrie served as the president of the Philadelphia College of Bible (now Philadelphia Biblical University), and as the chair of the department of systematic theology and dean of doctoral studies at Dallas Theological Seminary. He has published books on various topics such as theology, the Christian life, and dispensationalism.
Table Of Contents
foreword  / 9
1. Grace At Camp  / 13
2. Semantics Alert  / 19
3. Straw Men  / 19
4. What Is The Gospel?  / 35
5. Fruitful Or Faithless  / 41
6. What Is Carnality?  / 53
7. Of Course He Is Lord  / 63
8. The Eye Of The Needle  / 73
9. Repent!  About What?  / 81
10. Disciples Come In All Sizes And Shapes  / 93
11. It's Not Easy To Believe  / 107
12. The Verdict: Not Guilty  / 115
13. Secure And Sure Of It  / 125
14. Bringing Many Sons To Glory  / 135
      Definitions Of Key Terms  / 143
      Scripture Index  / 147
      Subject Index  / 153