So You're About to Be a Teenager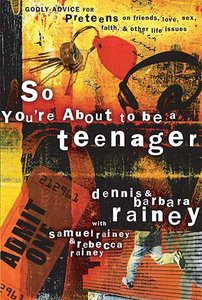 Godly Advice for Preteens on Friends, Love, Sex, Faith, and Other Life Issues

This repackaged edition dispels the fears that can come during the massive upheavals of adolescence and helps preteens anticipate issues they will face, avoid mistakes and temptations, and move confidently through their teenage years.

Samuel and Rebecca Rainey, preteens themselves not many years ago, add their perspective as young adults who vividly recall their own successes and failures as teenagers.

Covering such topics as friends, peer pressure, boundaries, dating, and sex, the Raineys address the most common traps of adolescence and teach young people how to avoid making poor choices. Short, concise chapters are filled with engaging illustrations and practical applications. This book is essential reading for preteens.


- Publisher 176 Pages

- Publisher
You May Also Be Interested In
About "So You're About to Be a Teenager"
Godly Advice for Preteens on Friends, Love, Sex, Faith, and Other Life Issues

This repackaged edition dispels the fears that can come during the massive upheavals of adolescence and helps preteens anticipate issues they will face, avoid mistakes and temptations, and move confidently through their teenage years.

Samuel and Rebecca Rainey, preteens themselves not many years ago, add their perspective as young adults who vividly recall their own successes and failures as teenagers.

Covering such topics as friends, peer pressure, boundaries, dating, and sex, the Raineys address the most common traps of adolescence and teach young people how to avoid making poor choices. Short, concise chapters are filled with engaging illustrations and practical applications. This book is essential reading for preteens.

- Publisher

176 Pages
- Publisher


Meet the Authors
Dennis Rainey
Dennis Rainey hosts FamilyLife Today , a nationally syndicated broadcast bringing help and hope on nearly 1,000 radio outlets across the U.S. He also serves as president and CEO of FAMILYLIFE in Little Rock, Arkansas. In 2011 Dennis's book Stepping UP: A Call to Courageous Manhood was released. He and his wife, Barbara, have written numerous books, including Parenting Today's Adolescent and the newly revised and updated Passport2Purity . They have six grown children and eighteen grandchildren.
Barbara Rainey
Dennis Rainey serves as president of FAMILYLIFE and hosts the nationally syndicated FamilyLife Today radio program. Barbara is an artist and writer and enjoys creating resources for women and families. ý The Raineys have written over twenty-five books together, including bestsellers Moments Together for Couples and Building Your Mate's Self-Esteem. They have six children and eighteen grandchildren.ý

Rebecca Rainey
Dennis Rainey serves as president of FAMILYLIFE and hosts the nationally syndicated FamilyLife Today radio program. Barbara is an artist and writer and enjoys creating resources for women and families. ý The Raineys have written over twenty-five books together, including bestsellers Moments Together for Couples and Building Your Mate's Self-Esteem. They have six children and eighteen grandchildren.ý

Samuel Rainey
Dennis Rainey serves as president of FAMILYLIFE and hosts the nationally syndicated FamilyLife Today radio program. Barbara is an artist and writer and enjoys creating resources for women and families. ý The Raineys have written over twenty-five books together, including bestsellers Moments Together for Couples and Building Your Mate's Self-Esteem. They have six children and eighteen grandchildren.ý