Social Distinctives of the Christians in the First Century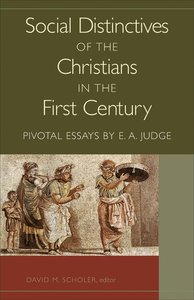 This is a collection of pivotal essays by E. A. Judge, who initiated many important discussions in the establishment of social scientific criticism of the Bible.

What is it that made the work of Judge in 1960 and in subsequent years so important? Judge was the first in scholarship after the mid-twentieth century to clarify early Christian ideals about society by defining what the social institutions of the broader cultural context were and how they influenced the social institutions of the early Christian communities. Judge points out that earlier scholars had entered into this field of inquiry, but that, in general, they failed due to the lack of careful definitions of the Greco-Roman social institutions at the time based on a thorough use of the primary sources.

Thus, Judge was the "new founder" ( a turning point in scholarship) of what came to be called social-scientific criticism of the New Testament. Social-scientific criticism is the term in scholarship that refers to the use of social realities (e.g. institutions, class, factors of community organization) in the critical study of literary sources available (this is an advance over "merely" literary and traditional historical questions).

- Publisher
You May Also Be Interested In
About "Social Distinctives of the Christians in the First Century"
This is a collection of pivotal essays by E. A. Judge, who initiated many important discussions in the establishment of social scientific criticism of the Bible.

What is it that made the work of Judge in 1960 and in subsequent years so important? Judge was the first in scholarship after the mid-twentieth century to clarify early Christian ideals about society by defining what the social institutions of the broader cultural context were and how they influenced the social institutions of the early Christian communities. Judge points out that earlier scholars had entered into this field of inquiry, but that, in general, they failed due to the lack of careful definitions of the Greco-Roman social institutions at the time based on a thorough use of the primary sources.

Thus, Judge was the "new founder" ( a turning point in scholarship) of what came to be called social-scientific criticism of the New Testament. Social-scientific criticism is the term in scholarship that refers to the use of social realities (e.g. institutions, class, factors of community organization) in the critical study of literary sources available (this is an advance over "merely" literary and traditional historical questions).
- Publisher


Meet the Author
Edwin Judge
Edwin A. Judge is one Australia's most famous academics. After studying at Cambridge, Professor Judge moved to Sydney University and then on to Macquarie where he was appointed the first professor in Ancient History. For twenty-five years, and since his retirement, he has been a leader in Ancient History and the study of Early Christianity. Professor Judge helped to collect the study materials in the Ancient History Documentary Research Centre and to establish the Museum of Ancient Cultures, one of the finest institutions of its kind. He has published widely (over 400 articles, books, and essays) and served as editor of the Journal of Religious History. Professor Judge has served Macquarie University as an administrator in many capacities: as a department head, an elected member of the University Council, Pro Vice-Chancellor and Acting Deputy Vice-Chancellor. In 1995 he received Membership of the Order of Australia, and in 1999 the Australian Academy of the Humanities elected him an Honorary Fellow. Some of his publications include The Social Pattern of Christian Groups in the First Century, and Antike u. Christentum. Towards a Definition of the Field, A Bibliographical Survey and a set of his most significant scholarly articles are found in Social Distinctives of the Christians in the First Century: Pivotal Essays by E. A. Judge.