Socrates in the City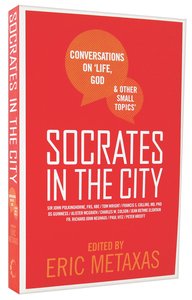 The Greek philosopher Socrates famously said that fdfdthe unexamined life is not worth livingfdfd. Taking this as a starting point, Eric Metaxas founded a speaking series that encouraged busy and successful professionals to attend forums and think actively about the bigger questions in life. Thus Socrates in the City: Conversations on Life, God, and Other Small Topics.

This book is for the seeker in all of us, the collector of wisdom, and the person who asks fdfdwhatfdfds the point?fdfd. Within this collection of original essays that were first given to standing-room-only crowds in New York City are serious thinkers from all around the world taking on Life, God, Evil, Redemption, and other similarly small topics.

Luminaries such as Dr. Francis Collins, Sir John Polkinghorne, Tom Wright, Os Guinness, Peter Kreeft and George Weigel have written about extraordinary topics vital to both secular and Christian thinking, such as fdfdMaking Sense Out of Sufferingfdfd, fdfdThe Concept of Evil after 9/11fdfd, and fdfdCan a Scientist Pray?fdfd. No question is too big - in fact, the bigger and the more complex the better. These essays are both thought-provoking and entertaining, because nowhere is it written that finding answers to lifefdfds biggest questions shouldnfdfdt be great fun.



- Publisher
You May Also Be Interested In
About "Socrates in the City"
The Greek philosopher Socrates famously said that fdfdthe unexamined life is not worth livingfdfd. Taking this as a starting point, Eric Metaxas founded a speaking series that encouraged busy and successful professionals to attend forums and think actively about the bigger questions in life. Thus Socrates in the City: Conversations on Life, God, and Other Small Topics.

This book is for the seeker in all of us, the collector of wisdom, and the person who asks fdfdwhatfdfds the point?fdfd. Within this collection of original essays that were first given to standing-room-only crowds in New York City are serious thinkers from all around the world taking on Life, God, Evil, Redemption, and other similarly small topics.

Luminaries such as Dr. Francis Collins, Sir John Polkinghorne, Tom Wright, Os Guinness, Peter Kreeft and George Weigel have written about extraordinary topics vital to both secular and Christian thinking, such as fdfdMaking Sense Out of Sufferingfdfd, fdfdThe Concept of Evil after 9/11fdfd, and fdfdCan a Scientist Pray?fdfd. No question is too big - in fact, the bigger and the more complex the better. These essays are both thought-provoking and entertaining, because nowhere is it written that finding answers to lifefdfds biggest questions shouldnfdfdt be great fun.


- Publisher


Meet the Author
Eric Metaxas
Eric Metaxas is a truly versatile and prolific writer, whose works have ranged from popular apologetics to meticulously researched biographies, from cutting edge articles in top periodicals to children's storybooks. Whether it's essays, reviews, satire, or even poetry, Eric is a master communicator with the written word. He has even worked on Veggie Tales! His works have been translated into over twenty languages.

Eric is extensively involved in broadcasting, hosting his own syndicated radio program The Eric Metaxas Show since 2015, featuring in-depth interviews with high profile guests. He has also appeared on CNN, MSNBC and Fox News as a cultural commentator. He is an in-demand speaker internationally, and has delivered addresses at the White House, West Point, and many universities; he has also moderated public debates involving such high profile - and controversial - figures as Bishop John Spong, Peter Singer; and Bart Ehrman.

Eric's New York Times bestseller titles include the acclaimed Bonhoeffer: Pastor, Martyr, Prophet, Spy (2011 ECPA Book of the Year); as well as Miracles; Seven Women; Seven Men; Amazing Grace, and If You Can Keep It: The Forgotten Promise of American Liberty. He has written more than thirty children's books, including the bestsellers Squanto and the Miracle of Thanksgiving and It's Time to Sleep, My Love, illustrated by Nancy Tillman.

Eric's writing was first published in Atlantic Monthly, and has appeared in the New York Times, the Washington Post, Regeneration Quarterly, Christianity Today, National Review Online, Beliefnet and First Things. The American Booksellers Association chose Metaxas's The Birthday ABC as a 1995 Pick of the List and Amazon.com honored his Squanto and the Miracle of Thanksgiving with their Number One Bestseller Award for Thanksgiving 1999.

Eric is the founder and host of Socrates in the City: Conversations on the Examined Life, a monthly event in New York City featuring entertaining and thought provoking discussions involving such speakers as Sir John Polkinghorne, Dr Armand Nicholi, Os Guinness, Lauren F. Winner and Peter Kreeft.

Eric was born in Queens, New York City in 1963 and grew up in Danbury, Connecticut. His father is of Greek descent and his mother of German, and he was raised in a Greek Orthodox environment, though he now attends the evangelical St George's Episcopal Church in New York. He graduated from Yale University, where he edited the humour magazine and won prizes for fiction writing. Eric now lives in Manhattan with his wife Susanne and their daughter.