Somebody Like You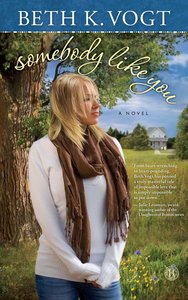 In this beautifully rendered, affecting novel, a young widow's world is shattered when she meets her late husband's identical twin-and finds herself caught between honoring her husband's memory and falling in love with his reflection.

Can a young widow find love again with her husband's reflection?

Haley's three-year marriage to Sam, an army medic, ends tragically when he's killed in Afghanistan. Her attempts to create a new life for herself are ambushed when she arrives home one evening-and finds her husband waiting for her. Did the military make an unimaginable mistake when they told her Sam was killed?

Too late to make things right with his estranged twin brother, Stephen discovers Sam never told Haley about him. As Haley and Stephen navigate their fragile relation­ship, they are inexorably drawn to each other. How can they honor the memory of a man whose death brought them together-and whose ghost could drive them apart?

Somebody Like You is a beautifully rendered, affecting novel, reminding us that while we can't change the past, we have the choice to change the future and start anew.

- Publisher
You May Also Be Interested In
About "Somebody Like You"
In this beautifully rendered, affecting novel, a young widow's world is shattered when she meets her late husband's identical twin-and finds herself caught between honoring her husband's memory and falling in love with his reflection.

Can a young widow find love again with her husband's reflection?

Haley's three-year marriage to Sam, an army medic, ends tragically when he's killed in Afghanistan. Her attempts to create a new life for herself are ambushed when she arrives home one evening-and finds her husband waiting for her. Did the military make an unimaginable mistake when they told her Sam was killed?

Too late to make things right with his estranged twin brother, Stephen discovers Sam never told Haley about him. As Haley and Stephen navigate their fragile relation­ship, they are inexorably drawn to each other. How can they honor the memory of a man whose death brought them together-and whose ghost could drive them apart?

Somebody Like You is a beautifully rendered, affecting novel, reminding us that while we can't change the past, we have the choice to change the future and start anew.
- Publisher


Meet the Author
Beth K Vogt
Beth K. Vogt is a writer whose work has appeared in Discipleship Journal, MOMSense, and Crosswalk.com. She lives in Colorado Springs, Colorado, with her family.
Customer Reviews For "Somebody Like You"
Write Your Own Review
Amazing story, very well written
By Margot,

Mar 31 2016
This was such a different story. Very dramatic. And written so well I could feel Haley's grief, Stephen's confusion, their pain and the tiny steps toward healing and love.
Haley was married to Sam for three years, but he was an army medic, so they hardly knew each other. Now Sam is dead. A broad spectrum of emotions result when Sam's twin brother Stephen arrives, and the reader feels it all through the excellent writing of Beth Vogt. Lots more emotion ensues as Haley and Stephen draw closer, especially as they care for Sam's baby together. 
Don't miss this excellent, dramatic story of faith, hope, grief and love.
---
An Unexpected Pleasure
By Iola,

Jul 01 2014
Haley Ames was widowed three months ago before she could tell her husband she was expecting their first child. Then one evening he turns up on the doorstep-only it's not Sam. It's Stephen, his identical twin brother, who she never knew existed.

Stephen has returned to his home town to reconnect with the brother he lost touch with after high school, but instead finds only Sam's pregnant widow. Stephen tries to connect with Haley in the hope that he can learn something of the man Sam became through the woman Sam married. What he doesn't expect is to be attracted to Haley. 

Stephen and Haley form a relationship that is uncomfortable at first, especially for Haley, but she gradually comes to rely on Stephen. Somebody Like You had the potential to be really trite, full of awkward moments and embarrassing conversations. It wasn't. Instead, it was a sensitive portrayal of grief, regret and acceptance. I think the strongest part was the regret-both Haley and Stephen were left wishing they could have said one more thing to Sam, and had to learn to live with the knowledge they could never make that right. Recommended

Thanks to Bethany House and NetGalley for providing a free ebook for review. 
{{review.title}}
By {{review.author.name}},

{{review.reviewCreatedDate | date:'MMM dd yyyy'}}

{{reviewdescription}}
{{review.text}}
---