Someday Heaven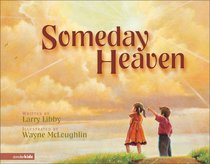 Even the youngest children ask questions about heaven. Parents and children alike will enjoy this lovely, inviting book that gives biblical answers to some of the most-often-asked questions about heaven. This attractive picture book for children ages 4-8, with simple, yet vivid descriptions of heaven, is a rewritten and reillustrated version of the popular adult version of the book by the same name.

- Publisher Explaining the mysteries of Heaven to a child can be a difficult task. But in Someday Heaven, author Larry Libby gives simple, comforting answers to difficult questions that children age 4 to 8 often have concerning heaven.'Excellent for Homeschool Use'

- Publisher Someday Heaven provides biblically based answers on a topic that's not always easy to explain to a young child. The warm, illuminating art of Wayne McLoughlin helps to convey each touching story of the future God promises to his children. Help your child discover the answers to the wonders of God's mysterious and glorious home with Someday Heaven.

- Publisher
You May Also Be Interested In
About "Someday Heaven"
Even the youngest children ask questions about heaven. Parents and children alike will enjoy this lovely, inviting book that gives biblical answers to some of the most-often-asked questions about heaven. This attractive picture book for children ages 4-8, with simple, yet vivid descriptions of heaven, is a rewritten and reillustrated version of the popular adult version of the book by the same name.
- Publisher

Explaining the mysteries of Heaven to a child can be a difficult task. But in Someday Heaven, author Larry Libby gives simple, comforting answers to difficult questions that children age 4 to 8 often have concerning heaven.'Excellent for Homeschool Use'
- Publisher

Someday Heaven provides biblically based answers on a topic that's not always easy to explain to a young child. The warm, illuminating art of Wayne McLoughlin helps to convey each touching story of the future God promises to his children. Help your child discover the answers to the wonders of God's mysterious and glorious home with Someday Heaven.
- Publisher


Meet the Authors
Larry Libby
Larry Libby is an author and editor who has written a number of books including Someday Heaven and Who Made God? He lives in Oregon.