Sometimes a Light Surprises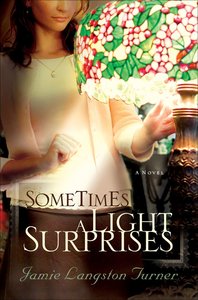 Though it was years ago, Ben Buckley has never gotten over the loss of his wife. But even more than the mystery surrounding her death is the radical change that occurred in her life shortly beforehand. Their marriage was unusually happy--until she met a woman who "turned her on to religion." Baffled, angry, and still feeling guilty for the way he treated Chloe those final weeks, Ben now lives behind the protective walls of severed relationships and a rigid work routine.

When two unlikely people enter his narrow world, Ben's view of his life begins to change, and gradually the barriers he's erected around himself come tumbling down.

For readers who enjoy character-driven, thought-provoking stories that stay with them long after the last page is turned.

- Publisher
You May Also Be Interested In
About "Sometimes a Light Surprises"
Though it was years ago, Ben Buckley has never gotten over the loss of his wife. But even more than the mystery surrounding her death is the radical change that occurred in her life shortly beforehand. Their marriage was unusually happy--until she met a woman who "turned her on to religion." Baffled, angry, and still feeling guilty for the way he treated Chloe those final weeks, Ben now lives behind the protective walls of severed relationships and a rigid work routine.

When two unlikely people enter his narrow world, Ben's view of his life begins to change, and gradually the barriers he's erected around himself come tumbling down.

For readers who enjoy character-driven, thought-provoking stories that stay with them long after the last page is turned.
- Publisher


Meet the Author
Jamie Langston Turner
Jamie Langston Turner is currently a professor of creative writing and literature at Bob Jones University in South Carolina. She describes her writing as, "a journey into God's truth using the wonderful vehicle of fiction." She has had a lifelong interest in promoting God's kingdom through the written word and works from credo that, "A story can get its toe in the door where a sermon often can't." A college professor for thirty-four years, she has written extensively for a variety of periodicals. Her novels have earned both the Angel and Christy Awards. Jamie's first novel, Suncatchers, launched her journey toward recognition of her latest novel, Winter Birds, in Publisher's Weekly's Best Books of 2006: "Genuine humour and well-crafted characters make this a memorable and inspiring novel." - Publisher's Weekly. Jamie's other titles include Some Wildflower in my Heart, No Dark Valley, and By the Light of a Thousand Stars.
-Editorial Review.