Soul Talk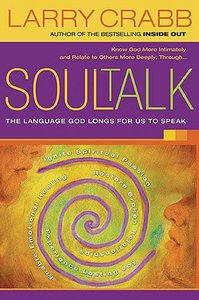 Crabb shows how God calls readers into deeper relationships through "supernatural conversations."

- Publisher In this extraordinary book, Dr. Larry Crabb introduces a revolutionary way for Christians to experience God. "Soul talk" happens when two Christians talk to each other in a way that results in their passion for God being stirred, ignited, and released.

- Publisher Author and well-known psychologist Dr. Larry Crabb describes a more meaningful form of communication in his popular release, SoulTalk, now available in trade paper. So many times we open our mouth to speak without a single thought of the impact it will have on another's life. We chat, argue, gossip, flatter, maneuver, preach, strategize and tell wonderful stories. But too often it is only talk - and seldom the kind of meaningful conversations for which we were created. "Out of the same mouth proceed blessing and cursing," the Bible tells us. With SoulTalk, we can learn to touch each other's souls in a way that brings growth, meaning, belonging and great joy - a blessing.

- Publisher
You May Also Be Interested In
About "Soul Talk"
Crabb shows how God calls readers into deeper relationships through "supernatural conversations."
- Publisher

In this extraordinary book, Dr. Larry Crabb introduces a revolutionary way for Christians to experience God. "Soul talk" happens when two Christians talk to each other in a way that results in their passion for God being stirred, ignited, and released.
- Publisher

Author and well-known psychologist Dr. Larry Crabb describes a more meaningful form of communication in his popular release, SoulTalk, now available in trade paper. So many times we open our mouth to speak without a single thought of the impact it will have on another's life. We chat, argue, gossip, flatter, maneuver, preach, strategize and tell wonderful stories. But too often it is only talk - and seldom the kind of meaningful conversations for which we were created. "Out of the same mouth proceed blessing and cursing," the Bible tells us. With SoulTalk, we can learn to touch each other's souls in a way that brings growth, meaning, belonging and great joy - a blessing.
- Publisher


Meet the Author
Larry Crabb
Dr. Larry Crabb is a well-known psychologist, seminar speaker, Bible teacher, author and founder/director of New Way Ministries. He is also Scholar in Residence at Colorado Christian University and serves as Spiritual Director for the American Association of Christian Counsellors. His many popular books include Inside Out, Finding God, Connecting, The Safest Place on Earth, The Papa Prayer, SoulTalk and most recently Real Church: Does it exist? Can I find it?