Soul Ties: The Unseen Bond in Relationships (Truth And Freedom Series)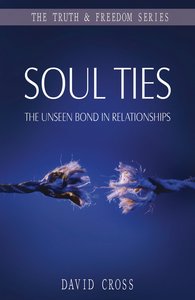 When we realize that relationships are more than just a physical meeting of two people, we begin to understand that some of our relationships might have affected our lives in a negative way. We may find ourselves damaged and tied in a place of bondage from which God wants us to be set free. A way of describing this unseen hold that ties us to bad relationships is an ungodly soul-tie. It is a tie in the spiritual realm that has a hold on the soul.As you read this book you will discover how to find release from ungody soul-ties and most impotantly experience God's freedom and healing.The teaching will be of vital importance to those seeking to help those struggling with the consequences of difficult or ungodly relationships.This book is part of Sovereign World 'Turth & Freedom' series based on the renowned teaching program from Ellel Ministries International.

- Publisher
You May Also Be Interested In
About "Soul Ties: The Unseen Bond in Relationships (Truth And Freedom Series)"
When we realize that relationships are more than just a physical meeting of two people, we begin to understand that some of our relationships might have affected our lives in a negative way. We may find ourselves damaged and tied in a place of bondage from which God wants us to be set free. A way of describing this unseen hold that ties us to bad relationships is an ungodly soul-tie. It is a tie in the spiritual realm that has a hold on the soul.As you read this book you will discover how to find release from ungody soul-ties and most impotantly experience God's freedom and healing.The teaching will be of vital importance to those seeking to help those struggling with the consequences of difficult or ungodly relationships.This book is part of Sovereign World 'Turth & Freedom' series based on the renowned teaching program from Ellel Ministries International.
- Publisher


Meet the Author
David Cross
David Cross is Deputy International Director for Ellel Ministries and Regional Director for the Ministry in Western Europe.

He graduated from Nottingham University in 1969 and qualified as a chartered civil engineer, leading to a varied working career, which included building roads and bridges in the Highlands of Scotland and, in the early 1980s, overseeing the construction of new town development in the New Territories area of Hong Kong. It was here that a huge personal change of direction occurred when he gave his life to Jesus.

Returning to Scotland, David became very active in church life and in leading ski tours in the Cairngorm Mountains. In order to further the Christian healing ministry in the Highlands, as an elder in the Church of Scotland, he and others in the local church made contact with Ellel Ministries in 1991, and two years later David and his wife Denise joined the Ministry at the international headquarters of Ellel Grange, near Lancaster.

David and Denise have three children and eight grandchildren, all giving much joy in the midst of very busy lives. Besides the thrill of sharing God's truth through teaching and writing, David loves walking and photography. His authoritative explanation of God's word has brought understanding and healing to many who have been confused and damaged by the ungodly ideologies of today's world.
Table Of Contents
When We Realize That Relationships Are More Than Just A Physical Meeting Of Two People, We Begin To Understand That Some Of Our Relationships Might Have Affected Our Lives In A Negative Way. We May Find Ourselves Damaged And Tied In A Place Of Bondage From Which God Wants Us To Be Set Free. A Way Of Describing This Unseen Hold That Ties Us To Bad Relationships Is An Ungodly Soul-tie. It Is A Tie In The Spiritual Realm That Has A Hold On The Soul.as You Read This Book You Will Discover How To Find Release From Ungody Soul-ties And Most Impotantly Experience God's Freedom And Healing.the Teaching Will Be Of Vital Importance To Those Seeking To Help Those Struggling With The Consequences Of Difficult Or Ungodly Relationships.this Book Is Part Of Sovereign World 'turth & Freedom' Series Based On The Renowned Teaching Program From Ellel Ministries International.
Other Titles In The "Truth And Freedom" Series View All