Soulful Spirituality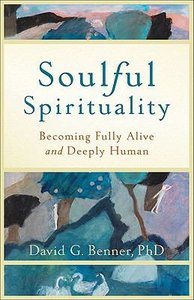 "A masterpiece of understanding and guidance" "David Benner offers us a masterpiece of understanding and guidance for mature, fully alive human living. The profound and fiercely honest human and spiritual wisdom found here will leave the reader more in touch with both the impediments to full human aliveness and the possibilities of such aliveness, which are aided by the many concrete spiritual practices that he offers. He challenges our settling for a narrow, repressed way of life and spirituality and calls us to become more truly alive in every dimension of our being: body, soul, and spirit."-- Tilden Edwards, founder and senior fellow, Shalem Institute for Spiritual Formation, Washington, DC "David Benner has done it again! In this profound, highly readable book that plumbs the depths, he integrates his impressive gifts in psychology and theology with his own lived spirituality as a lifelong seeker. To immerse oneself in Soulful Spirituality is the next best thing to sitting down with him for a transforming, intimate, and enlivening conversation."-- Margaret Guenther, professor emerita of ascetical theology and former director of the Center for Christian Spirituality, General Theological Seminary "I believe this will be David Benner's most important book. Some will find it controversial. But many more, I believe, will find it hope- and life-giving. Soulful Spirituality moves the reader beyond beliefs and practices to the discovery of the rich resources of an in-bodied Christian spirituality, resources for helping you become the unique and whole human being you were intended to be."-- Gary W. Moon, vice president and integration chair, Richmont Graduate University; author, Apprenticeship with Jesus "Someone needed to write this book and I'm glad it was David Benner. His wise, incisive, and winsome style makes unsettling truth easier to receive and challenges to the status quo profoundly liberating."-- Ruth Haley Barton, founder, Transforming Center; author, Sacred Rhythms and Invitation to Solitude and Silence

- Publisher Spirituality has an indispensable role to play in the expression of our humanity. However, spiritual practices can sometimes make us less, not more, authentically human. We may be good Christians, but we aren't good human beings. How can we ensure that our spiritual journey is conducted in a way that allows us to become fully alive and deeply human?

David Benner has spent thirty-five years integrating psychology and spirituality. Here he presents an expansive, psychologically informed understanding of spirituality, probing the contrasts between soulful and soulless spirituality, deep and shallow religion, and healthy and unhealthy relationships with God to affirm the vital role of human development in the spiritual journey. Benner then suggests soulful practices for cultivating the Christian spiritual life.

This book will appeal to readers seeking depth and substance in their quest for authentic spirituality. It will also be a helpful resource for mental health professionals and spiritual directors. Reflection questions and exercises for individual or group use are included at the end of each chapter.

- Publisher
You May Also Be Interested In
About "Soulful Spirituality"
"A masterpiece of understanding and guidance" "David Benner offers us a masterpiece of understanding and guidance for mature, fully alive human living. The profound and fiercely honest human and spiritual wisdom found here will leave the reader more in touch with both the impediments to full human aliveness and the possibilities of such aliveness, which are aided by the many concrete spiritual practices that he offers. He challenges our settling for a narrow, repressed way of life and spirituality and calls us to become more truly alive in every dimension of our being: body, soul, and spirit."-- Tilden Edwards, founder and senior fellow, Shalem Institute for Spiritual Formation, Washington, DC "David Benner has done it again! In this profound, highly readable book that plumbs the depths, he integrates his impressive gifts in psychology and theology with his own lived spirituality as a lifelong seeker. To immerse oneself in Soulful Spirituality is the next best thing to sitting down with him for a transforming, intimate, and enlivening conversation."-- Margaret Guenther, professor emerita of ascetical theology and former director of the Center for Christian Spirituality, General Theological Seminary "I believe this will be David Benner's most important book. Some will find it controversial. But many more, I believe, will find it hope- and life-giving. Soulful Spirituality moves the reader beyond beliefs and practices to the discovery of the rich resources of an in-bodied Christian spirituality, resources for helping you become the unique and whole human being you were intended to be."-- Gary W. Moon, vice president and integration chair, Richmont Graduate University; author, Apprenticeship with Jesus "Someone needed to write this book and I'm glad it was David Benner. His wise, incisive, and winsome style makes unsettling truth easier to receive and challenges to the status quo profoundly liberating."-- Ruth Haley Barton, founder, Transforming Center; author, Sacred Rhythms and Invitation to Solitude and Silence
- Publisher

Spirituality has an indispensable role to play in the expression of our humanity. However, spiritual practices can sometimes make us less, not more, authentically human. We may be good Christians, but we aren't good human beings. How can we ensure that our spiritual journey is conducted in a way that allows us to become fully alive and deeply human?

David Benner has spent thirty-five years integrating psychology and spirituality. Here he presents an expansive, psychologically informed understanding of spirituality, probing the contrasts between soulful and soulless spirituality, deep and shallow religion, and healthy and unhealthy relationships with God to affirm the vital role of human development in the spiritual journey. Benner then suggests soulful practices for cultivating the Christian spiritual life.

This book will appeal to readers seeking depth and substance in their quest for authentic spirituality. It will also be a helpful resource for mental health professionals and spiritual directors. Reflection questions and exercises for individual or group use are included at the end of each chapter.
- Publisher


Meet the Author
David G Benner
David G. Benner (Ph.D., York University)is an internationally known psychologist, author, spiritual guide, and personal transformation coach who has spent thirty-five years integrating psychology and spirituality. He currently serves as emeritus distinguished professor of psychology and spirituality at Richmont Graduate University in Atlanta, Georgia, and an associate fellow at the Centre for Studies in Religion and Society at University of Victoria in British Columbia, Canada.


He was professor of psychology at Redeemer College (Ontario) and a practicing clinical psychologist. He is the author or editor of twenty books, including the Baker Encyclopedia of Psychology and Counseling and most recently Spirituality and the Awakening Self: The Sacred Journey of Transformation; Soulful Spirituality: Becoming Fully Alive and Deeply Human and Opening to God: Lectio Divina and Life as Prayer
Koorong -Editorial Review.
Table Of Contents
part One: The Challenge Of Becoming Fully Human
1. The Struggle To Be Fully Alive
2. Our Restless Hearts
3. Understanding Our Humanity
part Two: The Path To Becoming Fully Human
4. Living With Spirit And Soul
5. The Spiritual Nature Of The Human Journey
6. Deep Religion And Healthy Spirituality
7. Embodied Spirituality
part Three: Spiritual Practices For The Human Journey
8. Awareness
9. Wonder
10. Otherness
11. Reality
12. Presence
13. Surrender
epilogue: Being At One
index