Speaking of Dying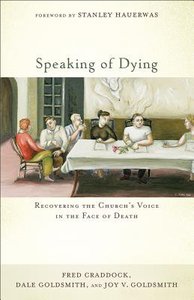 The church does not cope very well with dying. Instead of using its own resources to mount a positive end-of-life ministry for the terminally ill, it outsources care to secular models, providers, and services. A terminal diagnosis typically triggers denial of impending death and placing faith in the techniques and resources of modern medicine. If a cure is not forthcoming, the patient and his or her loved ones experience a sense of failure and bitter disappointment.

This book offers a critical analysis of the church's failure to communicate constructively about dying, reminding the church of its considerable liturgical, scriptural, and pastoral resources when it ministers to the terminally ill. The authors, who have all been personally and professionally involved in end-of-life issues, suggest practical, theological bases for speaking about dying, communicating with those facing death, and preaching about dying. They explore how dying--in baptism--begins and informs the Christian's life story. They also emphasize that the narrative of faith embraces dying, and they remind readers of scriptural and christological resources that can lead toward a "good dying." In addition, they present current best practices from health professionals for communication among caregivers and those facing death. The book includes a foreword by Stanley Hauerwas.

- Publisher
You May Also Be Interested In
About "Speaking of Dying"
The church does not cope very well with dying. Instead of using its own resources to mount a positive end-of-life ministry for the terminally ill, it outsources care to secular models, providers, and services. A terminal diagnosis typically triggers denial of impending death and placing faith in the techniques and resources of modern medicine. If a cure is not forthcoming, the patient and his or her loved ones experience a sense of failure and bitter disappointment.

This book offers a critical analysis of the church's failure to communicate constructively about dying, reminding the church of its considerable liturgical, scriptural, and pastoral resources when it ministers to the terminally ill. The authors, who have all been personally and professionally involved in end-of-life issues, suggest practical, theological bases for speaking about dying, communicating with those facing death, and preaching about dying. They explore how dying--in baptism--begins and informs the Christian's life story. They also emphasize that the narrative of faith embraces dying, and they remind readers of scriptural and christological resources that can lead toward a "good dying." In addition, they present current best practices from health professionals for communication among caregivers and those facing death. The book includes a foreword by Stanley Hauerwas.
- Publisher


Meet the Authors
Fred Craddock
Fred B. Craddock is Bandy Distinguished Professor of Preaching and New Testament Emeritus in the Candler School of Theology of Emory University. An ordained minister of the Christian Church (Disciples of Christ). He has written a number of books, including First and Second Peter and Jude (Westminster Bible Companion series) and Luke and Philippians (The Interpretation Commentary), along with numerous books on preaching.
Dale Goldsmith
Fred Craddock (PhD, Vanderbilt University) is a widely acclaimed preacher and author, selected by Newsweek as one of the twelve most effective preachers in the English-speaking world. He has written numerous books on preaching, several commentaries, and The Cherry Log Sermons. He lives in Cherry Log, Georgia. Dale Goldsmith (PhD, University of Chicago) taught for several years at McPherson College and at the Baptist Seminary of Mexico. He is the author of New Testament Ethics and lives in Amarillo, Texas. Joy V. Goldsmith (PhD, University of Oklahoma) is associate professor and chair in communications studies at Young Harris College. Her books include Communication as Comfort and Dying with Comfort. She lives in Blairsville, Georgia.
Table Of Contents
Foreword By Stanley Hauerwas
introduction
1. The Dying Pastor: Everybody Knew, But No One Would Talk About It
2. Victims Of The Wrong Story
3. Jesus Christ: Lord Of The Living And The Dead--and The Dying
4. The Difference Jesus's Dying Makes
5. What Do You Say To Someone Who Is Dying?
6. Preaching On Death And Dying
7. Facing Dying Faithfully: A Small Cloud Of Witnesses
8. A Good Dying