Spirit-Controlled Temperament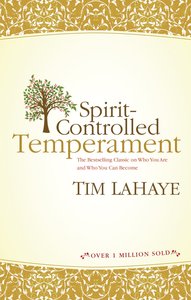 Who am I? What makes me do the things I do? You've asked the questions-as did philosophers and theologians thousands of years ago. And Tim LaHaye provides answers patterned after ancient models of human behavior and grounded in the Word of God. Temperament. You're born with it: distinct strengths but also weaknesses that can hold you back. God wants to transform those natural weaknesses. He wants to make you a dynamic, effective Christian who lives above anger, fear, depression, and selfishness. In Spirit-Controlled Temperament find out who you are-predominantly Sanguine, Choleric, Melancholy, or Phlegmatic. But more-find out who you can become.

- Publisher A superb treatment of the basic human temperaments and how God can use them, now revised with new chapters and questions for group study.

- Publisher
You May Also Be Interested In
About "Spirit-Controlled Temperament"
Who am I? What makes me do the things I do? You've asked the questions-as did philosophers and theologians thousands of years ago. And Tim LaHaye provides answers patterned after ancient models of human behavior and grounded in the Word of God. Temperament. You're born with it: distinct strengths but also weaknesses that can hold you back. God wants to transform those natural weaknesses. He wants to make you a dynamic, effective Christian who lives above anger, fear, depression, and selfishness. In Spirit-Controlled Temperament find out who you are-predominantly Sanguine, Choleric, Melancholy, or Phlegmatic. But more-find out who you can become.
- Publisher

A superb treatment of the basic human temperaments and how God can use them, now revised with new chapters and questions for group study.
- Publisher


Meet the Author
Tim Lahaye
Dr. Tim LaHaye is the creator and co-author of the Left Behind series and is also a noted scholar of Biblical prophecy, an internationally known author, a minister, and an educator. He is the founder and president of Tim LaHaye Ministries. Dr. LaHaye and his wife, Beverly, live in southern California.
Table Of Contents