Spirit-Led Evangelism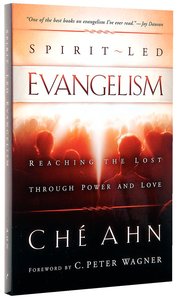 Most Christians know they should share their faith in Jesus Christ with unbelievers, but not everyone is on the same footing. Some hardly know where to start. Others move with confidence but want to explore areas of greater effectiveness. In the body of Christ, the call to evangelism is clear, but the gifting is different. Spirit-Led Evangelism helps remove any barriers to answering that call. With practical teaching and personal illustrations, Che Ahn explains the priority of evangelism and equips readers to move to higher levels of success. With a special emphasis on "power evangelism," this book helps both hesitant and on-fire Christians deepen their skills for following Christ into all the world.



- Publisher Evangelism--simple and natural?Yes! Spirit-Led Evangelism will be a tool to enlighten and empower you for one of the greatest privileges and some of the most rewarding interchanges you will ever have in this life. Evangelism is not an assignment. It is an overflow of God's life in you that brings more life in turn--first to you and then to those with whom you share. How to do it? Spirit-Led Evangelism shows you step by step. This book will transform your thinking, ignite your heart for the lost and show you just how simple and natural personal evangelism can be. "Ch Ahn's proven and faithful pastoral ministry, with his nationwide influence as a prophetic voice, have established him as a trusted shepherd. I commend his ministry to any yet to meet this godly, emerging leader."--Pastor Jack W. Hayford, chancellor, The King's College and Seminary; president, International Foursquare Churches"Spirit-Led Evangelism presents us with an effective means of presenting the Good News of Jesus Christ. Catch the fire of God's love and give it away by devouring this contagious message."--James W. Goll, cofounder, Encounters Network; author, The Seer, Praying for Israel's Destiny and The Lost Art of Practicing His Presence "This book will give you a passion for God's passion--the lost. Ch Ahn makes evangelism delightfully fun and easy. Every believer needs to read this book."--Cindy Jacobs, president and cofounder, Generals of Intercession; faculty member, Wagner Leadership Institute"Ch wants to see the fire of evangelism burn not just in the ministries of professional evangelists but in the heart of every believer. As you read on, your soul will be stirred and you will want to say, 'Yes! Count me in on the great movement of the saints!'"-- from the foreword by C. Peter Wagner, chancellor, Wagner Leadership Institute

- Publisher
You May Also Be Interested In
About "Spirit-Led Evangelism"
Most Christians know they should share their faith in Jesus Christ with unbelievers, but not everyone is on the same footing. Some hardly know where to start. Others move with confidence but want to explore areas of greater effectiveness. In the body of Christ, the call to evangelism is clear, but the gifting is different. Spirit-Led Evangelism helps remove any barriers to answering that call. With practical teaching and personal illustrations, Che Ahn explains the priority of evangelism and equips readers to move to higher levels of success. With a special emphasis on "power evangelism," this book helps both hesitant and on-fire Christians deepen their skills for following Christ into all the world.


- Publisher

Evangelism--simple and natural?Yes! Spirit-Led Evangelism will be a tool to enlighten and empower you for one of the greatest privileges and some of the most rewarding interchanges you will ever have in this life. Evangelism is not an assignment. It is an overflow of God's life in you that brings more life in turn--first to you and then to those with whom you share. How to do it? Spirit-Led Evangelism shows you step by step. This book will transform your thinking, ignite your heart for the lost and show you just how simple and natural personal evangelism can be. "Ch Ahn's proven and faithful pastoral ministry, with his nationwide influence as a prophetic voice, have established him as a trusted shepherd. I commend his ministry to any yet to meet this godly, emerging leader."--Pastor Jack W. Hayford, chancellor, The King's College and Seminary; president, International Foursquare Churches"Spirit-Led Evangelism presents us with an effective means of presenting the Good News of Jesus Christ. Catch the fire of God's love and give it away by devouring this contagious message."--James W. Goll, cofounder, Encounters Network; author, The Seer, Praying for Israel's Destiny and The Lost Art of Practicing His Presence "This book will give you a passion for God's passion--the lost. Ch Ahn makes evangelism delightfully fun and easy. Every believer needs to read this book."--Cindy Jacobs, president and cofounder, Generals of Intercession; faculty member, Wagner Leadership Institute"Ch wants to see the fire of evangelism burn not just in the ministries of professional evangelists but in the heart of every believer. As you read on, your soul will be stirred and you will want to say, 'Yes! Count me in on the great movement of the saints!'"-- from the foreword by C. Peter Wagner, chancellor, Wagner Leadership Institute
- Publisher


Meet the Author
Che Ahn
Che Ahn (D.Min., Fuller Theological Seminary) is senior pastor of Harvest Rock Church in Pasadena, California, and founder and president of Harvest International Ministry, a worldwide apostolic network of more than 5,000 churches in more than 34 nations. The author of numerous books including When Heaven Comes Down: Experiencing God's Glory in Your Life; Spirit-Led Evangelism: Reaching the Lost through Power and Love and Close Encounters Of The Divine Kind, Ahn travels and teaches extensively throughout the world.