Spirit Wars: Winning the Invisible Battle Against Sin and the Enemy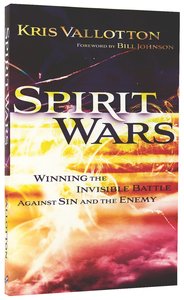 $

19.99

$

15.99
You Save: $4.00 (20%)
Paperback
You know the battle is raging - but are you fighting the right enemy?

Just as enemies fought Joshua in the Promised Land, and Nehemiah faced opposition as he rebuilt the walls of Jerusalem, our enemy will fight us as we approach the spiritual terrain God has promised us. Most Christians retreat at the first sign of conflict because they fail to recognize the true nature of the battle. But you can prevail in freedom and joy.

Sharing his deeply personal story of demonic bondage, torment and ultimate deliverance, pastor and bestselling author Kris Vallotton turns the idea of spiritual warfare as we know it on its head. He reveals the diabolical lies and strategies of the enemy - attacks and traps so subtle and deceptive that we may find our souls and hearts imprisoned without even knowing it. No more! Now you can win the invisible battle against sin and the enemy. Victory is within your grasp. Will you take hold?

Endorsements:
"It is with great excitement that I recommend this book to you, knowing that fruit will increase until Jesus gets His full reward."
- Bill Johnson, author, When Heaven Invades Earth and The Essential Guide to Healing, senior pastor, Bethel Church, Redding, California

"A book like this by a man like Kris is pure gold. These are not only lessons learned in the battlefield, but practices that have helped people get free and stay free over many years. I am confident that Spirit Wars will find its way into the homes of believers all over the world as a handbook for understanding the spirit realm and for opening the eyes and hearts of the saints for generations to come. I would highly recommend that you get in the front of the line in buying this one!"
- Danny Silk, family life pastor, Bethel Church, Redding, California; author, Culture of Honor and Loving Our Kids On Purpose

- Publisher
You May Also Be Interested In
About "Spirit Wars: Winning the Invisible Battle Against Sin and the Enemy"
You know the battle is raging - but are you fighting the right enemy?

Just as enemies fought Joshua in the Promised Land, and Nehemiah faced opposition as he rebuilt the walls of Jerusalem, our enemy will fight us as we approach the spiritual terrain God has promised us. Most Christians retreat at the first sign of conflict because they fail to recognize the true nature of the battle. But you can prevail in freedom and joy.

Sharing his deeply personal story of demonic bondage, torment and ultimate deliverance, pastor and bestselling author Kris Vallotton turns the idea of spiritual warfare as we know it on its head. He reveals the diabolical lies and strategies of the enemy - attacks and traps so subtle and deceptive that we may find our souls and hearts imprisoned without even knowing it. No more! Now you can win the invisible battle against sin and the enemy. Victory is within your grasp. Will you take hold?

Endorsements:
"It is with great excitement that I recommend this book to you, knowing that fruit will increase until Jesus gets His full reward."
- Bill Johnson, author, When Heaven Invades Earth and The Essential Guide to Healing, senior pastor, Bethel Church, Redding, California

"A book like this by a man like Kris is pure gold. These are not only lessons learned in the battlefield, but practices that have helped people get free and stay free over many years. I am confident that Spirit Wars will find its way into the homes of believers all over the world as a handbook for understanding the spirit realm and for opening the eyes and hearts of the saints for generations to come. I would highly recommend that you get in the front of the line in buying this one!"
- Danny Silk, family life pastor, Bethel Church, Redding, California; author, Culture of Honor and Loving Our Kids On Purpose

- Publisher
- Koorong

Leading Charismatic Pastor Offers a Bold New Strategy for Spiritual Warfare

Kris Vallotton, a pastor at Bethel Church in Redding, California, and the cofounder of its School of Supernatural Ministry, knows his way around the spiritual battlefield. For years he was tormented by a host of demonic assaults, though he didn't know the problems were spiritual. Confused, overwhelmed, he actually contemplated suicide--until the Lord delivered him.

Since that time, Kris has spent his life spreading a message of hope and freedom. He's helped people all over the world recognize the devil's stealth attacks and taught them to overcome. Weaving time-tested spiritual warfare tactics with biblical understanding, Kris offers Christians a bold new battle plan, showing how even those in the most devastating of personal battles can be victorious.
- Publisher


Meet the Author
Kris Vallotton
Kris Vallotton is the founder and overseer of the Bethel School of Supernatural Ministry in Redding, California. He is the Senior Associate Leader at Bethel Church, and has been a part of Bill Johnson's apostolic team for over 26 years. Kris is an internationally recognized prophetic voice, and he and his wife Kathy have trained, developed, and pastored prophetic teams and supernatural schools all over the world. He is a notable speaker with a vision and passion to equip an "Elijah Generation" for the end-times harvest. He has authored numerous books including the best-selling Supernatural Ways of Royalty, as well as Developing a Supernatural Lifestyle, Basic Training for the Prophetic Ministry, and Purity.
Customer Reviews For "Spirit Wars: Winning the Invisible Battle Against Sin and the Enemy"
Write Your Own Review
Kris knows his stuff!
By Bodie,

Oct 31 2014
This is a very honest and informative insight into the way our beings (spirit, soul and body) function in the natural and physical realms.  Kris uses his own stories taking a VERY transparent approach in the way they are told. This book will help every born again believer on a number of different levels.  This is a compulsory book for born again Christians - especially the newly saved.
---
Must Read Book.
By Mel,

Apr 08 2012
This is an excellent book and one that every christian should read. It goes along way to undo many of the lies about the Christian life and our identities that have been widely taught, accepted and believed within the church. It also gives great (but seldom taught) principals and strategies of spiritual warfare, strategies that shift our focus to our awesome God and put the enemy back in his place...under our feet! This stuff should be Christianity 101 but I have seldom ever heard it taught. Thank You Kris for sharing your amazing story with such honesty and vulnerability and allowing us the chance to learn from your journey. 
{{review.title}}
By {{review.author.name}},

{{review.reviewCreatedDate | date:'MMM dd yyyy'}}

{{reviewdescription}}
{{review.text}}
---