Spiritual Companioning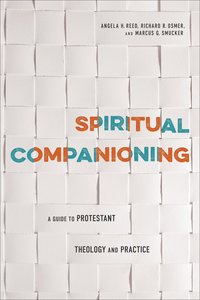 Among the smiling faces in church on Sunday mornings are those who long for deeper, more genuine relationships within their local congregations--active, intentional relationships that nurture the soul and encourage personal encounters with God. Drawing on decades of experience in spiritual direction, congregational ministry, and seminary teaching, this book offers a clear and rich introduction to the theology and practice of spiritual companioning in the Protestant tradition. The authors explore the topic in a biblically based and historically informed manner and give practical help for cultivating spiritual relationships in congregations and beyond, using stories throughout to illustrate key ideas. Discussion questions are included.

- Publisher
You May Also Be Interested In
About "Spiritual Companioning"
Among the smiling faces in church on Sunday mornings are those who long for deeper, more genuine relationships within their local congregations--active, intentional relationships that nurture the soul and encourage personal encounters with God. Drawing on decades of experience in spiritual direction, congregational ministry, and seminary teaching, this book offers a clear and rich introduction to the theology and practice of spiritual companioning in the Protestant tradition. The authors explore the topic in a biblically based and historically informed manner and give practical help for cultivating spiritual relationships in congregations and beyond, using stories throughout to illustrate key ideas. Discussion questions are included.
- Publisher


Meet the Authors
Richard R Osmer
Richard Robert Osmer is Thomas W. Synnott Professor of Christian Education and Director of the School of Christian Education at Princeton Theological Seminary in Princeton, New Jersey. An ordained Presbyterian minister, he is the author of "Confirmation: Presbyterian Practices in Ecumenical Perspective", "Teaching for Faith", and "A Teachable Spirit".
Table Of Contents
Among The Smiling Faces In Church On Sunday Mornings Are Those Who Long For Deeper, More Genuine Relationships Within Their Local Congregations--active, Intentional Relationships That Nurture The Soul And Encourage Personal Encounters With God. Drawing On Decades Of Experience In Spiritual Direction, Congregational Ministry, And Seminary Teaching, This Book Offers A Clear And Rich Introduction To The Theology And Practice Of Spiritual Companioning In The Protestant Tradition. The Authors Explore The Topic In A Biblically Based And Historically Informed Manner And Give Practical Help For Cultivating Spiritual Relationships In Congregations And Beyond, Using Stories Throughout To Illustrate Key Ideas. Discussion Questions Are Included.