Spiritual Disciplines Handbook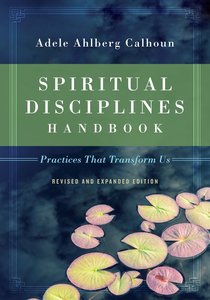 Maybe you long for a more intimate prayer life or deeper insight from God's Word but just don't know how to get there. Or maybe you want to learn about new spiritual disciplines like visio divina, unplugging or attentiveness.In Spiritual Disciplines Handbook Adele Calhoun gives us directions for our continuing journey toward intimacy with Christ. While the word discipline may make us want to run and hide, the author shows how desires and discipline work together to lead us to the transformation we're longing for?the transformation only Christ can bring. Instead of just giving information about spiritual disciplines, this handbook is full of practical, accessible guidance that helps you actually practice them.With over 80,000 copies in print, this well-loved catalog of seventy-five disciplines has been revised throughout and expanded to include thirteen new disciplines along with a new preface by the author.Mothers, fathers, plumbers, nurses, students?we're all on a journey. And spiritual disciplines are for all of us who desire to know Christ deeply and be like him. Here is direction for our desire, leading us to the ultimate destination: more of Christ himself.

- Publisher
You May Also Be Interested In
About "Spiritual Disciplines Handbook"
Maybe you long for a more intimate prayer life or deeper insight from God's Word but just don't know how to get there. Or maybe you want to learn about new spiritual disciplines like visio divina, unplugging or attentiveness.In Spiritual Disciplines Handbook Adele Calhoun gives us directions for our continuing journey toward intimacy with Christ. While the word discipline may make us want to run and hide, the author shows how desires and discipline work together to lead us to the transformation we're longing for?the transformation only Christ can bring. Instead of just giving information about spiritual disciplines, this handbook is full of practical, accessible guidance that helps you actually practice them.With over 80,000 copies in print, this well-loved catalog of seventy-five disciplines has been revised throughout and expanded to include thirteen new disciplines along with a new preface by the author.Mothers, fathers, plumbers, nurses, students?we're all on a journey. And spiritual disciplines are for all of us who desire to know Christ deeply and be like him. Here is direction for our desire, leading us to the ultimate destination: more of Christ himself.
- Publisher


Meet the Author
Adele Ahlberg Calhoun
Adele Ahlberg Calhoun (MA, Gordon-Conwell Theological Seminary) has worked in Christian ministry for over thirty years and is currently copastor, with her husband, Doug, of Redeemer Community Church in Needham, Massachusetts. She was formerly pastor of spiritual formation at Christ Church in Oak Brook, Illinois. A trained spiritual director, she has taught courses at Wheaton College and Northern Baptist Theological Seminary. In the early 1970s she helped pioneer student work with the International Fellowship of Evangelical Students in Southeast Asia and the Middle East. She has also worked wit
Table Of Contents
Maybe You Long For A More Intimate Prayer Life Or Deeper Insight From God's Word But Just Don't Know How To Get There. Or Maybe You Want To Learn About New Spiritual Disciplines Like visio Divina, Unplugging Or Attentiveness.in spiritual Disciplines Handbook Adele Calhoun Gives Us Directions For Our Continuing Journey Toward Intimacy With Christ. While The Word discipline May Make Us Want To Run And Hide, The Author Shows How Desires And Discipline Work Together To Lead Us To The Transformation We're Longing For?the Transformation Only Christ Can Bring. Instead Of Just Giving Information about Spiritual Disciplines, This Handbook Is Full Of Practical, Accessible Guidance That Helps You Actually practice Them.with Over 80,000 Copies In Print, This Well-loved Catalog Of Seventy-five Disciplines Has Been Revised Throughout And Expanded To Include Thirteen New Disciplines Along With A New Preface By The Author.mothers, Fathers, Plumbers, Nurses, Students?we're All On A Journey. And Spiritual Disciplines Are For All Of Us Who Desire To Know Christ Deeply And Be Like Him. Here Is Direction For Our Desire, Leading Us To The Ultimate Destination: More Of Christ Himself.

part I: Worship

Celebrationgratitudeholy Communionrule For Lifesabbathvisio Divinaworship

part Ii: Open Myself To God

Contemplationexameniconographyjournalingpilgrimagepracticing The Presencerestretreatself-caresimplicityslowingteachabilityunplugging

part Iii: Relinquish The False Self

Confession And Self-examinationdetachmentdiscernmentmindfulnesssecrecysilencesobrietysolitude Spiritual Directionsubmissionwaiting

part Iv: Share My Life With Others

Accountability Partner Chastity Communitycovenant Groupdiscipling Face-to-face Connectionhospitalitymentoringservicesmall Groupspiritual Friendshipunitywitness

part V: Hear God's Word

Bible Studylectio Divina/devotional Readingmeditationmemorization

part Vi: Incarnate The Love Of Christ

Blessing Others/encouragementcare Of The Earthcompassioncontrol Of The Tongue Forgivenesshumility Justicesolidarity In Jesus' Sufferingsstewardshiptruth Telling

part Vii: Pray

Breath Prayercentering Prayercontemplative Prayerconversational Prayerfastingfixed-hour Prayerinner-healing Prayerintercessory Prayerlabyrinth Prayerlistening Prayerliturgical Prayerprayer Of Lamentprayer Partnerspraying Scriptureprayer Of Recollectionprayer Walkingwelcoming Prayer

Acknowledgmentsappendix 1: Spiritual Growth Plannerappendix 2: A Series On Spiritual Disciplines For The Congregationappendix 3: Suggestions For Spiritual Mentorsappendix 4: Using The Spiritual Disciplines Handbook With Small Groupsappendix 5: Names For Worshiping Godappendix 6: One Anothersappendix 7: Postures For Prayerappendix 8: Spending Time With Godappendix 9: Suggestions For Fasting Prayer For The Churchappendix 10: Seasons, Stages And Ages Of Transformationglossarybibliographyindex Of Spiritual Disciplines
Customer Reviews For "Spiritual Disciplines Handbook"
Write Your Own Review
The best book I read in 2016
By Simone Bahler,

Oct 25 2016
I am a prayer warrior and found this unique book recommended. I gives you guidelines, equips you and helps you grow in over 70 spiritual disciplines and points out their specific desire, scriptures , practice options and how you can produce spiritual fruits. In addition it gives you an explanation of each discipline, reflection and exercises and resources. I used this book to study each spiritual discipline, learn and create a daily prayer. You can use this book as daily devotion, as connect group leader, ladies group seminar leader, start a workshop in your church to help others grow in their spiritual discipline etc. It helps you draw near Jesus our Saviour, grow in your faith to the Father Almighty and experience the Holy Spirit how he manifest glory in you. This book makes you hungry and thirsty for more but also brings such spiritual wealth into your life. I can highly recommend this book for you or as a great gift for ministers, group  connect leader or youth leader. This book brings you to a higher realm in your walk in God's kingdom on earth and you will walk under open heaven when you read it
{{review.title}}
By {{review.author.name}},

{{review.reviewCreatedDate | date:'MMM dd yyyy'}}

{{reviewdescription}}
{{review.text}}
---