Spiritual Friendship: Finding Love in the Church as a Celibate Gay Christian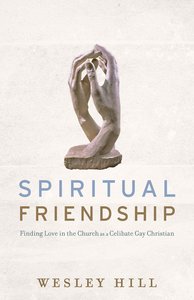 Friendship is a relationship like no other. Unlike the relationships we are born into, we choose our friends. It is also tenuous--we can end a friendship at any time. But should friendship be so free and unconstrained? Although our culture tends to pay more attention to romantic love, marriage, family, and other forms of community, friendship is a genuine love in its own right. This eloquent book reminds us that Scripture and tradition have a high view of friendship. Single Christians, particularly those who are gay and celibate, may find it is a form of love to which they are especially called.

Writing with deep empathy and with fidelity to historic Christian teaching, Wesley Hill retrieves a rich understanding of friendship as a spiritual vocation and explains how the church can foster friendship as a basic component of Christian discipleship. He helps us reimagine friendship as a robust form of love that is worthy of honor and attention in communities of faith. This book sets forth a positive calling for celibate gay Christians and suggests practical ways for all Christians to cultivate stronger friendships.

- Publisher
You May Also Be Interested In
About "Spiritual Friendship: Finding Love in the Church as a Celibate Gay Christian"
Friendship is a relationship like no other. Unlike the relationships we are born into, we choose our friends. It is also tenuous--we can end a friendship at any time. But should friendship be so free and unconstrained? Although our culture tends to pay more attention to romantic love, marriage, family, and other forms of community, friendship is a genuine love in its own right. This eloquent book reminds us that Scripture and tradition have a high view of friendship. Single Christians, particularly those who are gay and celibate, may find it is a form of love to which they are especially called.

Writing with deep empathy and with fidelity to historic Christian teaching, Wesley Hill retrieves a rich understanding of friendship as a spiritual vocation and explains how the church can foster friendship as a basic component of Christian discipleship. He helps us reimagine friendship as a robust form of love that is worthy of honor and attention in communities of faith. This book sets forth a positive calling for celibate gay Christians and suggests practical ways for all Christians to cultivate stronger friendships.
- Publisher


Meet the Author
Wesley Hill
Wesley Hill graduated from Wheaton College and has an MA in Theology and Religion from Durham University in the UK. He is currently working toward a PhD in New Testament at Durham and has written for Books and Culture and Ransom Fellowship's magazine Critique.
Table Of Contents
Friendship Is A Relationship Like No Other. Unlike The Relationships We Are Born Into, We Choose Our Friends. It Is Also Tenuous--we Can End A Friendship At Any Time. But Should Friendship Be So Free And Unconstrained? Although Our Culture Tends To Pay More Attention To Romantic Love, Marriage, Family, And Other Forms Of Community, Friendship Is A Genuine Love In Its Own Right. This Eloquent Book Reminds Us That Scripture And Tradition Have A High View Of Friendship. Single Christians, Particularly Those Who Are Gay And Celibate, May Find It Is A Form Of Love To Which They Are Especially Called.

Writing With Deep Empathy And With Fidelity To Historic Christian Teaching, Wesley Hill Retrieves A Rich Understanding Of Friendship As A Spiritual Vocation And Explains How The Church Can Foster Friendship As A Basic Component Of Christian Discipleship. He Helps Us Reimagine Friendship As A Robust Form Of Love That Is Worthy Of Honor And Attention In Communities Of Faith. This Book Sets Forth A Positive Calling For Celibate Gay Christians And Suggests Practical Ways For All Christians To Cultivate Stronger Friendships.
Customer Reviews For "Spiritual Friendship: Finding Love in the Church as a Celibate Gay Christian"
Write Your Own Review
Recovering true friendship
By Aaron,

Jul 13 2017
Hill writes this helpful book that shows how culturally we have devalued friendships in light of romantic, marital relationships. Drawing on his own personal experiences, individuals through history and in the scripture itself, Hill argues that Christians need to value and invest deeper in friendships (or in other words, brother and sister relationship between believers). He explores these ideas in the context of gay celibate Christians, but on a broader level, relates them to all Christians.

Hill helpfully offers practical advice to celibate gay christians on pursuing such deeper friendships, particularly with nonsexual same-sex friendships. Additionally, Hill lays out a few ways on how Christians (and thus the Church) can nurture and pursue such deeper relationships, particularly with celibate gay Christians.
{{review.title}}
By {{review.author.name}},

{{review.reviewCreatedDate | date:'MMM dd yyyy'}}

{{reviewdescription}}
{{review.text}}
---