Spiritual Leadership Workbook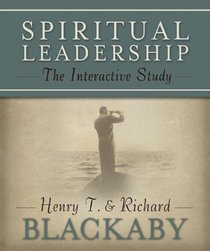 Equip those called to lead -- from the pastorate to middle management -- with the tools to move people on to God's agenda.

- Publisher Next to his Experiencing God classic, Spiritual Leadership is one of Henry Blackaby's most highly regarded and best-selling books to date, encouraging leaders in business and church to follow God's design for success. Now, the companion interactive study personalizes the experience of learning the ways in which God develops, guides, and empowers spiritual leaders.

- Publisher
You May Also Be Interested In
About "Spiritual Leadership Workbook"
Equip those called to lead -- from the pastorate to middle management -- with the tools to move people on to God's agenda.
- Publisher

Next to his Experiencing God classic, Spiritual Leadership is one of Henry Blackaby's most highly regarded and best-selling books to date, encouraging leaders in business and church to follow God's design for success. Now, the companion interactive study personalizes the experience of learning the ways in which God develops, guides, and empowers spiritual leaders.
- Publisher


Meet the Authors
Henry T Blackaby
Henry T. Blackaby is the founder and president emeritus of Blackaby Ministries International, an organization built to help people experience God.Dr. Blackaby has devoted his lifetime to ministry. He has served as a music director, education director, and pastor in churches in California and Canada, as well as president of Canadian Baptist Theological College for seven years and president of the Canadian Southern Baptist Conference. Blackaby has published an array of spiritually influential messages in his lifetime, most notably Experiencing God: Knowing and Doing the Will of God, which has sold 4 million copies and has been translated into over 45 languages. His books, Experiencing God Together and Experiencing God Day by Day Devotional, both won the Gold Medallion Award.- Publisher.
Richard Blackaby
Dr. Richard Blackaby is president of Blackaby Ministries International as well as the Chancellor of the Canadian Southern Baptist Seminary. Hes the author of Putting a Face on Grace and coauthor of numerous books with his father, Henry Blackaby, including Spiritual Leadership, Hearing God's Voice, and Experiencing God Day by Day. A former senior pastor, he served as president of the Canadian Southern Baptist Seminary from 1993 to 2006. He was also managing editor and contributing author for The Blackaby Study Bible. He and his wife, Lisa, are the parents of three children, and live in Cochrane, Alberta.