Spiritual Warfare Jesus' Way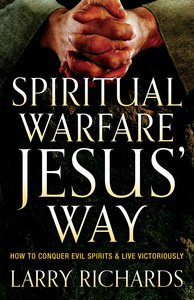 How to Do What Jesus Did

Do you have problems in life that won't go away? Struggles you can't seem to overcome? It isn't surprising. Like it or not, you are immersed in an invisible war. The problem is, most of us don't know how significantly, or directly, our lives are influenced by unseen battles and beings.

Jesus Himself is our model. He taught us how to fight. Here, respected teacher and bestselling author Larry Richards draws not only from the words of Jesus, but also from His actions in dealing with evil spirits, to offer a biblical, balanced approach to spiritual warfare. Richards explains how to

· recognize the enemy's attacks today
· prepare to face the enemy
· experience big and little everyday victories
· help others who are under attack
· and more!

Easy to follow and immediately practical, this handbook will help you become an instrument of God's redemptive grace, continuing Christ's ministry of setting Satan's captives--and yourself--free.

"Larry is a truly amazing gift to the Bride of Christ. His expertise and depth of wisdom concerning spiritual warfare are solidly biblical and profoundly practical. Read this book from cover to cover and then pass along these transforming truths."--Karl Clauson, morning host, Moody Radio Chicago

- Publisher
You May Also Be Interested In
About "Spiritual Warfare Jesus' Way"
How to Do What Jesus Did

Do you have problems in life that won't go away? Struggles you can't seem to overcome? It isn't surprising. Like it or not, you are immersed in an invisible war. The problem is, most of us don't know how significantly, or directly, our lives are influenced by unseen battles and beings.

Jesus Himself is our model. He taught us how to fight. Here, respected teacher and bestselling author Larry Richards draws not only from the words of Jesus, but also from His actions in dealing with evil spirits, to offer a biblical, balanced approach to spiritual warfare. Richards explains how to

· recognize the enemy's attacks today
· prepare to face the enemy
· experience big and little everyday victories
· help others who are under attack
· and more!

Easy to follow and immediately practical, this handbook will help you become an instrument of God's redemptive grace, continuing Christ's ministry of setting Satan's captives--and yourself--free.

"Larry is a truly amazing gift to the Bride of Christ. His expertise and depth of wisdom concerning spiritual warfare are solidly biblical and profoundly practical. Read this book from cover to cover and then pass along these transforming truths."--Karl Clauson, morning host, Moody Radio Chicago
- Publisher


Meet the Author
Larry Richards
Larry Richards has been teaching the Bible in local churches for more than forty years, and he has written more than two hundred books, including textbooks and study Bibles. He has been named a Distinguished Educator by the North American Professors of Christian Education. His Every series with Nelson, which includes Every Angel and Every Teaching of Jesus, bring the wealth and wonder of God's Word to every reader. He has also edited and written The Smart Guide to the Bible series. Larry lives in Raleigh, North Carolina, with his wife, Sue, who is also an author.
-Editorial Review.