Spontaneous Melodramas 2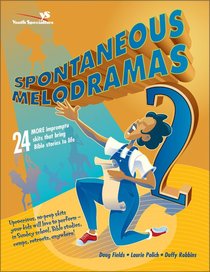 The lights are dim. The crowd is hushed.And a dozen teens start laughing hysterically, piling into a human "boat" that helps set up the mind-blowing miracle of Jesus walking on the stormy Sea of Galilee.Maybe you're after a booster shot for midweek youth group meetings that feel "same old, same old." Or you've just been asked (last minute, of course) to run the service at the shelter during your mission trip, and you need a jolt of energy that'll draw kids into your lesson. Whatever your creative need, Spontaneous Melodramas 2 will fill the bill. Continuing where its predecessor--Spontaneous Melodramas--left off, this volume offers another two dozen tales from the Old and New Testaments that bring the biblical accounts to life . . . with distinctive, contemporary twists!Although these no-rehearsal skits will leave your students in stitches, the humor never buries the message of Scripture. So you can be confident when bringing your kids--whether or not they're familiar with the Bible--

- Publisher This volume from Youth Specialties contains 24 more impromptu skits from the Old and New Testaments (with a modern, humorous twist) that help bring Bible stories to life.

- Publisher
You May Also Be Interested In
About "Spontaneous Melodramas 2"
The lights are dim. The crowd is hushed.And a dozen teens start laughing hysterically, piling into a human "boat" that helps set up the mind-blowing miracle of Jesus walking on the stormy Sea of Galilee.Maybe you're after a booster shot for midweek youth group meetings that feel "same old, same old." Or you've just been asked (last minute, of course) to run the service at the shelter during your mission trip, and you need a jolt of energy that'll draw kids into your lesson. Whatever your creative need, Spontaneous Melodramas 2 will fill the bill. Continuing where its predecessor--Spontaneous Melodramas--left off, this volume offers another two dozen tales from the Old and New Testaments that bring the biblical accounts to life . . . with distinctive, contemporary twists!Although these no-rehearsal skits will leave your students in stitches, the humor never buries the message of Scripture. So you can be confident when bringing your kids--whether or not they're familiar with the Bible--
- Publisher

This volume from Youth Specialties contains 24 more impromptu skits from the Old and New Testaments (with a modern, humorous twist) that help bring Bible stories to life.
- Publisher


Meet the Authors
Doug Fields
Founder of Simply Youth Ministry, Doug Fields has been in youth ministry since 1979 and is currently on staff at Saddleback Church in Southern California. He's the director of Purpose Driven Youth Ministry, and the author and co-author of more than 50 books, including the bestsellers Speaking to Teenagers and Your First Two Years in Youth Ministry. SPANISH BIO: Doug Fields es el pastor de ensenanza de la Iglesia Saddleback, una iglesia de 25,000 miembros. Como pastor de jovenes por mas de veinticinco anos, Doug realiza su actual funcion desde 1992. Ha sido autor y coauthor de mas de cincuenta
Laurie Polich
With 15 years of youth ministry experience, Laurie Polich serves as pastor of small groups and discipleship at Ocean Hills Covenant Church, in Santa Barbara. She's the author of several books including Help! I'm a Small-Group Leader training curriculum and book, Studies on the Go: John, and Small Group Qs, and she speaks frequently to students and youth workers across the country. SPANISH BIO: Laurie Polich es miembro del equipo de entrenamiento de Especialidades Juveniles . Cuando no esta dando clases sobre el ministerio con adolescentes en la Azusa Pacific University, habla en campamentos, c
Duffy Robbins
Duffy Robbins is Professor of youth ministry at Eastern University in St. Davids, Pennsylvania. A thirty-five year veteran of youth ministry, he's the bestselling author and coauthor of Enjoy the Silence, Speaking to Teenagers, Youth Ministry Nuts and Bolts and many more. Duffy speaks around the world to teenagers and people who care about teenagers.