Spring's Gentle Promise (#04 in Seasons Of The Heart Series)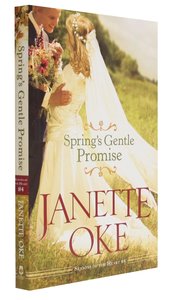 Josh Jones realizes his family isn't typical, but it's the only life he's ever known. Aunt Lou, Gramps, Uncle Charlie, Grandpa--they all have shaped the young man he has become. But as he grows into manhood, Josh begins to face important questions about life, love, and faith. Three million books sold in the series

- Publisher SPRING'S GENTLE PROMISEI can't believe it. Grandpa and Uncle Charlie signed all the official papers and now the farm is mine--really and legally mine. Joshua Chadwick Jones they read, clear as can be. I couldn't be more thrilled. I mean, what other fella my age has a farm all his own, title clear and paid for? If the crop fetches a good price, I might even be able to buy one of them new Ford motorcars! And then there's this other thing going on inside me. I've been feelin' a desire for a family of my own. I still don't know how they finagled it, but Grandpa and Uncle Charlie got two gals my age livin' at our house--Mary, our housekeeper and cook, and Matilda, the schoolteacher. I've always thought of the girls as friends, but something in my heart is changing a bit. Is one of them the gal God has in mind for me?

- Publisher
You May Also Be Interested In
About "Spring's Gentle Promise (#04 in Seasons Of The Heart Series)"
Josh Jones realizes his family isn't typical, but it's the only life he's ever known. Aunt Lou, Gramps, Uncle Charlie, Grandpa--they all have shaped the young man he has become. But as he grows into manhood, Josh begins to face important questions about life, love, and faith. Three million books sold in the series
- Publisher

SPRING'S GENTLE PROMISEI can't believe it. Grandpa and Uncle Charlie signed all the official papers and now the farm is mine--really and legally mine. Joshua Chadwick Jones they read, clear as can be. I couldn't be more thrilled. I mean, what other fella my age has a farm all his own, title clear and paid for? If the crop fetches a good price, I might even be able to buy one of them new Ford motorcars! And then there's this other thing going on inside me. I've been feelin' a desire for a family of my own. I still don't know how they finagled it, but Grandpa and Uncle Charlie got two gals my age livin' at our house--Mary, our housekeeper and cook, and Matilda, the schoolteacher. I've always thought of the girls as friends, but something in my heart is changing a bit. Is one of them the gal God has in mind for me?
- Publisher


Meet the Author
Janette Oke
Janette Oke was born in Champion, Alberta, Canada, during the depression years. She graduated from Mountain View Bible College in Alberta where she met her husband, Edward. They married in 1957 and served in churches in Calgary and Edmonton, Canada, and Indiana. Oke writes historical novels which portray the lives of early North American settlers from many walks of life and geographical settings. She also writes engaging children's stories and inspiring gift books that warm the heart. Oke published her first book, Love Comes Softly, in 1979. This book experienced immediate success and became a series. She has won a number of awards including the Gold Medallion Award, The Christy Award of Excellence, the 1992 Presidents Award for her significant contribution to the category of Christian fiction from the Evangelical Christian Publishers Association, and in 1999, the Life Impact Award from the Christian Booksellers Association International. Her books have been translated into fourteen languages. Oke has published some 75 books including, The Canadian West, Seasons of the Heart and Women of the West. Her most recent releases include a beautiful childrens picture book, I Wonder...Did Jesus Have a Pet Lamb and The Songs of Acadia series, co-written with T. Davis Bunn. - Publisher.
Other Titles In The "Seasons Of The Heart" Series View All