Springs in the Valley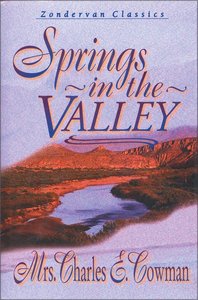 Mrs. Charles Cowman knew well about life's dark valleys. She knew, too, about God's living waters that bubble up in their midst, bringing refreshment and joy to the thirsty traveler. In Springs in the Valley, she shares cool draughts of wisdom and insight into God's character, drawn from the Scriptures and purified through a lifetime of experience. In print for more than sixty years, this classic daily devotional offers a years' worth of daily meditations, now in a new, definitive edition. Take a moment, tune out the clamor and concerns of today, and let Springs in the Valley wash the busy-ness from your soul in its limpid flow of wise, faith-filled words.

- Publisher
You May Also Be Interested In
About "Springs in the Valley"
Mrs. Charles Cowman knew well about life's dark valleys. She knew, too, about God's living waters that bubble up in their midst, bringing refreshment and joy to the thirsty traveler. In Springs in the Valley, she shares cool draughts of wisdom and insight into God's character, drawn from the Scriptures and purified through a lifetime of experience. In print for more than sixty years, this classic daily devotional offers a years' worth of daily meditations, now in a new, definitive edition. Take a moment, tune out the clamor and concerns of today, and let Springs in the Valley wash the busy-ness from your soul in its limpid flow of wise, faith-filled words.
- Publisher


Meet the Author
Mrs Charles E Cowman
Also know as Mrs. Charles Cowman and Lettie B. Cowman. She worked as a pioneer missionary with her husband in Japan and China from 1901 to 1917.
Excerpt
Excerpt from: Springs in the Valley
January 1 For the LORD thy God bringeth thee into a good land, a land of brooks of water, of fountains and depths that spring out of valleys and hills; A land of wheat, and barley, and vines, and fig trees, and pomegranates; a land of olive oil, and honey; A land wherein thou shalt eat bread without scarceness, thou shalt not lack any thing in it; a land whose stones are iron, and out of whose hills thou mayest dig brass. When thou hast eaten and art full, then thou shalt bless the LORD thy God for the good land which he hath given thee. (Deut. 8:7-10) We are entering upon a new year surely we cannot but believe, a new age. If we have rightly learned the lessons of the past, there lies before us a heritage of unspeakable blessing, which none of these vivid metaphors can too strongly describe; infinite sources of blessing, for the fountains and waterbrooks are but the figures of God's illimitable grace. For with Him is the fountain of life. A Fountain Fed by Eternal Springs! They tell us of boundless supply: 'Bread without scarceness,' the olive oil that speaks of the Holy Ghost, the honey that tells of the sweetness of His love, and the pomegranates that are the seed fruit which speak of a life that reproduces itself in the blessing of others. They tell of the 'nether springs' which flow from the depths of sorrow, in the hard places, in the desert places, in the lone places, in the common places which seem farthest from all that is sacred and Divine. How delightful it is to have His gladness in the low places of sorrow, and to be able to glory even in tribulation also. They tell us of pleasures that come out of the very heart of trial, treasures wrung from the grasp of the enemy. How precious the springs that flow into the places of temptation, for there is nothing in life so trying as the touch of Satan's hand, and the breath of the destroyer. Oh, how sweet it is, even there, to find that the light is as deep as the shadow, and heaven is nearest when we are hard by the gates of hell, so that we can count it all joy when we fall into diverse temptations, and can say, 'Blessed is the man that endureth temptation: for when he is tried, he shall receive the crown of life, which the Lord hath promised to them that love him.' How blessed to drink from the springs of health, and find our strength renewed day by day, and the life of God flowing into even our physical organs and functions! 'All my fresh springs are in thee!' Beloved, God has for us these springs, and we need them every day. Let us drink of the living waters. Nay, let us receive them into our very hearts, so that we shall carry the fountain with us wherever we go.A. B. SIMPSON C We shall never be 'springs' until God comes to us. We shall never be fresh, or fruitful, or useful to others till God comes to us. If we do not have constant visitations of God, we shall soon cease to be 'springs,' and shall go back to the old dry and barren days HELENA GARRATT.C Let us claim our inheritance in these coming days, and find the hardest places of life's experience God's greatest opportunities and faith's mightiest challenge. Springs in the valley are very unusual; but He will give us both the upper and the nether springs! January 2 Jesus himself drew near, and went with them. (Luke 24:15) A night in Spring and two men walking the Emmaus road saddened by their master's death bowed down beneath their load, when suddenly Another overtakes them as they walk. A Stranger falls in step with them, and earnestly they talk of what is in their hearts moved by a warm soul-stirring glow and when they reach Emmaus they are loath to let Him go; and so they bid Him stay awhile and share their simple board. And as He breaks the bread they know. They know it is the Lord. Oh, may He overtake us as the Path of Life we tread! Along our way of sorrow may His radiant Light be shed. Oh, may He come to warm the heart and ease the heavy load and walk with us as long ago He walked the Emmaus Road. Take the road the lonely road courageous, unafraid; ready for the journey when the twilight shadows fade. God whose Love is Omnipresent will He fail us then? or forget the covenant that He has made with men? PATIENCE STRONG.C Jesus never sends a man ahead alone. He blazes a clear way through every thicket and woods, and then softly calls, 'Follow me. Let's go on together, you and I.' He has been everywhere that we are called to go. His feet have trodden down smooth a path through every experience that comes to us. He knows each road, and knows it well: the valley road of disappointment with its dark shadows; the steep path of temptation down through the rocky ravines and slippery gullies; the narrow path of pain, with the brambly thornbushes so close on each side, with their slash and sting; the dizzy road along the heights of victory; the old beaten road of commonplace daily routine. Everyday paths He has trodden and glorified, and will walk anew with each of us. The only safe way to travel is with Him alongside and in control. S. D. GORDON.C