Stand Strong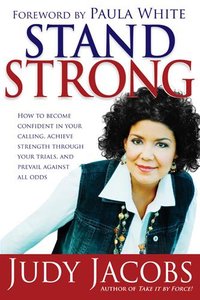 Stand Strong?the strongest message of 2007! ?I want you to be the exception to the norm. I want you to become a powerful example to others. I want you to be mighty in your spirit, whole through and through, and able to stand up in adversity.? ?Judy Jacobs Standing up is simple. Standing strong takes everything you have? and then some. Judy Jacobs shares six winning strategies for success that will change the way Christians stroll through life. When believers stand strong in God's Spirit, there is boldness, authority, confidence, strength in adversity, calm in the storms, miracles, and perseverance. Judy Jacobs invites readers to join the school of walkers? Enoch, Moses, Jesus, and others?who stood strong and made a difference in their world.

- Publisher
You May Also Be Interested In
About "Stand Strong"
Stand Strong?the strongest message of 2007! ?I want you to be the exception to the norm. I want you to become a powerful example to others. I want you to be mighty in your spirit, whole through and through, and able to stand up in adversity.? ?Judy Jacobs Standing up is simple. Standing strong takes everything you have? and then some. Judy Jacobs shares six winning strategies for success that will change the way Christians stroll through life. When believers stand strong in God's Spirit, there is boldness, authority, confidence, strength in adversity, calm in the storms, miracles, and perseverance. Judy Jacobs invites readers to join the school of walkers? Enoch, Moses, Jesus, and others?who stood strong and made a difference in their world.
- Publisher


Meet the Author
Judy Jacobs
Judy Jacobs is an ordained Minister of the Gospel, who through word and song presents the Good News of Jesus Christ. As a teacher, preacher and psalmist she has led thousands of people to a saving knowledge of Christ through concerts, conferences, churches and conventions around the world. Minister Jacobs television program - JUDY JACOBS NOW! - is aired on major Christian networks and reaches 51 million households around the world. Minister Jacobs has authored a variety of Christian publications such as: How to be Mighty In Spirit – Spirit Led Woman Christian magazine, and other notable Christian publications, devotions and her book - Take It By Force!