Starflower (#04 in Tales Of Goldstone Woods Series)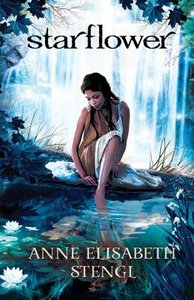 "Readers will enjoy this romantic adventure story...akin to C.S. Lewis' Narnia series."--Booklist

When a cursed dragon-witch kidnaps the lovely Lady Gleamdren, Eanrin sets boldly forth on a rescue mission...and a race against his rival for Gleamdren's favor. Intent upon his quest, the last thing the immortal Faerie needs is to become mixed up with the troubles of an insignificant mortal.

But when he stumbles upon a maiden trapped in an enchanted sleep, he cannot leave her alone in the dangerous Wood Between. One waking kiss later, Eanrin suddenly finds his story entangled with that of young Starflower. A strange link exists between this mortal girl and the dragon-witch. Will Starflower prove the key to Lady Gleamdren's rescue? Or will the dark power from which she flees destroy both her and her rescuer?

- Publisher
You May Also Be Interested In
About "Starflower (#04 in Tales Of Goldstone Woods Series)"
"Readers will enjoy this romantic adventure story...akin to C.S. Lewis' Narnia series."--Booklist

When a cursed dragon-witch kidnaps the lovely Lady Gleamdren, Eanrin sets boldly forth on a rescue mission...and a race against his rival for Gleamdren's favor. Intent upon his quest, the last thing the immortal Faerie needs is to become mixed up with the troubles of an insignificant mortal.

But when he stumbles upon a maiden trapped in an enchanted sleep, he cannot leave her alone in the dangerous Wood Between. One waking kiss later, Eanrin suddenly finds his story entangled with that of young Starflower. A strange link exists between this mortal girl and the dragon-witch. Will Starflower prove the key to Lady Gleamdren's rescue? Or will the dark power from which she flees destroy both her and her rescuer?
- Publisher


Meet the Author
Anne Elisabeth Stengl
Anne Elisabeth Stengl makes her home in Raleigh, North Carolina, where she enjoys her profession as an art teacher, giving private lessons from her personal studio, and teaching group classes at the Apex Learning Center. She studied illustration at Grace College and English literature at Campbell University. Heartless is her debut novel.
Other Titles In The "Tales Of Goldstone Woods" Series View All