Starting Right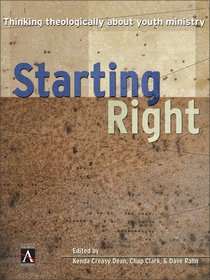 Starting Right: Thinking Theologically About Youth Ministry is the first academic textbook that introduces youth ministry students (whether undergraduate or graduate level) to a marriage of solid research, real life, and accessible design. Whereas most college-level texts may reflect a thorough (though impenetrable) mastery of the field, they tend to expect readers to plow through unnecessarily thick prose and bland design because ?it's good for them.? Youth Specialties doesn?t agree. In this debut title to a continuing academic book line, college and seminary students will be introduced to real-life research, real-life youth ministry dilemmas, and real-life solutions. Contributing writers represent a spectrum of Christian Education thought and practice, as well as widespread recognition in their field?transdenominational, yet the perfect background to ministry in any denomination or ministry organization This text includes thorough indexes, design, and graphics that compel readers from page to page (now that's a first for a college text!); organization that permits professors to use any part of the text, in any order, rather than plod through the entire book from beginning to end; a perfect primary text that gives students a rich, academic, and readable (though not ?popular?) grasp of every aspect of youth ministry a typical Intro course touches, while also serving as an ideal secondary text.

- Publisher
You May Also Be Interested In
About "Starting Right"
Starting Right: Thinking Theologically About Youth Ministry is the first academic textbook that introduces youth ministry students (whether undergraduate or graduate level) to a marriage of solid research, real life, and accessible design. Whereas most college-level texts may reflect a thorough (though impenetrable) mastery of the field, they tend to expect readers to plow through unnecessarily thick prose and bland design because ?it's good for them.? Youth Specialties doesn?t agree. In this debut title to a continuing academic book line, college and seminary students will be introduced to real-life research, real-life youth ministry dilemmas, and real-life solutions. Contributing writers represent a spectrum of Christian Education thought and practice, as well as widespread recognition in their field?transdenominational, yet the perfect background to ministry in any denomination or ministry organization This text includes thorough indexes, design, and graphics that compel readers from page to page (now that's a first for a college text!); organization that permits professors to use any part of the text, in any order, rather than plod through the entire book from beginning to end; a perfect primary text that gives students a rich, academic, and readable (though not ?popular?) grasp of every aspect of youth ministry a typical Intro course touches, while also serving as an ideal secondary text.
- Publisher


Meet the Authors
Kenda Creasy Dean
Kenda Creasy Dean (PhD.,Princeton Theological Seminary) is associate professor of youth, church, and culture and director of the Tennent School of Christian Education at Princeton Theological Seminary. She is also coauthor of The Godbearing Life: The Art of Soul Tending for Youth Ministry and Practicing Passion: Youth and the Quest for a Passionate Church and coeditor of Starting Right: Thinking Theologically about Youth Ministry.
Chap Clark
Chap Clark (Ph.D., University of Denver) is professor of Youth, Family and Culture at Fuller Theological Seminary and is director of youth ministry programs. Chap is also the executive administrator at Glendale (California) Presbyterian Church, a youth ministry volunteer for Young Life, and a consultant to schools, denominations, and parachurch organizations.
His publishing credits include The Youth Worker's Handbook to Family Ministry; Daughters and Dads: Building a Lasting Relationship (coauthor); Four Views of Youth Ministry and the Church (coauthor); Deep Ministry in a Shallow World (2006, co-authored with Kara Powell), and Hurt: Inside the World of Todays Teenagers (2004, 2011) a CBA finalist for Book of the Year, available in Spanish and Cantonese),
Dave Rahn
Dave Rahn (Ph.D., Purdue University) is professor of educational ministries at Huntington College and director of that school's Link Institute for Faithful and Effective Youth Ministry. He is coauthor of Contagious Faith: Empowering Student Leadership in Youth Evangelism; Evangelism Remixed: Empowering Students for Courageous and Contagious Faith and of a book that details the results and implications of an exhaustive study of Protestant youth ministers in America (published in 2001). Dave's volunteer work with Campus Life/Youth for Christ continues a streak of youth ministry that dates back to 1972.
Koorong -Editorial Review.