Stealing the Preacher (Brides Of Texas Series)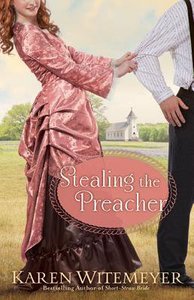 Inspirational Historical Romance's Rising Star

On his way to interview for a position at a church in the Piney Woods of Texas, Crockett Archer can scarcely believe it when he's forced off the train by a retired outlaw and presented to the man's daughter as the minister she requested for her birthday. Worried this unfortunate detour will ruin his chances of finally serving a congregation of his own, Crockett is determined to escape. But when he finally gets away, he's haunted by the memory of the young woman he left behind--a woman whose dreams now hinge on him.

For months, Joanna Robbins prayed for a preacher. A man to breathe life back into the abandoned church at the heart of her community. A man to assist her in fulfilling a promise to her dying mother. A man to help her discover answers to the questions that have been on her heart for so long. But just when it seems God has answered her prayers, it turns out the parson is there against his will and has dreams of his own calling him elsewhere. Is there any way she can convince Crockett to stay in her little backwoods community? And does the attraction between them have any chance of blossoming when Joanna's outlaw father is dead set against his daughter courting a preacher?

- Publisher
You May Also Be Interested In
About "Stealing the Preacher (Brides Of Texas Series)"
Inspirational Historical Romance's Rising Star

On his way to interview for a position at a church in the Piney Woods of Texas, Crockett Archer can scarcely believe it when he's forced off the train by a retired outlaw and presented to the man's daughter as the minister she requested for her birthday. Worried this unfortunate detour will ruin his chances of finally serving a congregation of his own, Crockett is determined to escape. But when he finally gets away, he's haunted by the memory of the young woman he left behind--a woman whose dreams now hinge on him.

For months, Joanna Robbins prayed for a preacher. A man to breathe life back into the abandoned church at the heart of her community. A man to assist her in fulfilling a promise to her dying mother. A man to help her discover answers to the questions that have been on her heart for so long. But just when it seems God has answered her prayers, it turns out the parson is there against his will and has dreams of his own calling him elsewhere. Is there any way she can convince Crockett to stay in her little backwoods community? And does the attraction between them have any chance of blossoming when Joanna's outlaw father is dead set against his daughter courting a preacher?
- Publisher


Meet the Author
Karen Witemeyer
Karen Witemeyer holds a master's degree in psychology from Abilene Christian University and is a member of ACFW, RWA, and the Texas Coalition of Authors. She has published fiction in Focus on the Family's children's magazine, and has written several articles for online publications and anthologies. Tailor-Made Bride is her first novel. Karen lives in Abilene, Texas, with her husband and three children.
Media
Customer Reviews For "Stealing the Preacher (Brides Of Texas Series)"
Write Your Own Review
Fantastic, as Always
By Margot,

May 10 2014
I love this author, and she didn't disappoint with this excellent historical romance. We've met Crockett Archer in other books, but his character is developed in this one. We find him to be a man of strong faith and principles which effect his actions. Joanna Robbins is a desperate young woman, desperate to see her father receive Christ as his Saviour. Being the gentleman that he is, Crockett cant resist a desperate woman, and his helping involves humour, drama and, of course, romance. We see how God uses a variety of circumstances to pursue each one of us, including Silas Robbins. It's a great story which kept me reading right to the very satisfying conclusion. I think you'll enjoy it too!
---
Good Read
By Karen,

Mar 20 2014
This book was entertaining and very enjoyable.  I am a fan of Karen Witemeyer's works, and this was a good example of it.  The plot  was fairly predictable, but for those who enjoy a storyline that works out just nicely, this book will be enjoyable.
---
Delightful reading
By Jacqui,

Aug 12 2013
Karen has done it again. I love Karen's other books and this one was no exception. It was funny, delightful and even has some really good teaching in it. It is a book I would happily lend to my non-Christian friends, knowing that they will read the basics of Jesus' love for them but also see it played out through the characters and not in an unreal way.
The characters are very easy to love and become involved with. I finished the book hoping that Karen has a book about the final Archer brother on the way. This is the second book in the series and I was really happy to see that the  main characters remained true to their character in the first book. Read them both - you will really enjoy them!
---
Light-hearted Christian Western Romance
By Iola,

Jun 08 2013
It is 1885 and Crockett Archer is following the call of God to on his way to Burleson County, Texas, to gain what he hopes will be his first official job as preacher. But his train journey is cut short when a group of outlaws hold up the train and kidnap him... as a birthday gift.

Joanna Robbins has always known her father used to be an outlaw and train robber, but love for her now-dead mother led to Silas and his gang giving up crime fifteen years ago and settling down to work the Robbins ranch. Her mother was a strong Christian, and when she died, she passed on to Jo the burden of praying for Silas and his salvation. Jo has long wanted a preacher for their abandoned church, but never dreamed her father would kidnap one (well, who would?).

It's an amusing set-up, and one that works well. Jo is a mature and beautiful young woman who is soon attracted to the young preacher, and Crockett soon finds that his plans might be different to God's plans-and God's plans just might include Jo and her small church. But he also has to earn the respect of Silas, who has a long-standing hatred for 'men of God'. 

One of the things I enjoy about Karen Witemeyer's books is the humour, and Stealing the Preacher is no exception. The concept alone is pretty funny, and she manages to mix humour with likeable characters, a solid plot and sound Christian themes without the humour coming off as forced, and without the characters coming off as stupid. 
 
Although this is part of a series, it can easily be read as a stand-alone novel (although you might just want to go back and read the earlier stories once you've finished this one). 

Thanks to Bethany House and NetGalley for providing a free ebook for review. 
---
Stolen My Heart
By Jessica R. Wakefield,

Jun 02 2013
I always look forward to one of Karen Witemeyer's books and this one was no exception. I read Short Straw Bride last year and was really happy to realize that I was hanging out with one of the Archer Boys from that book - Crockett Archer. Crockett is a rancher turned preacher and looking for his first church to pastor. It doesn't go to plan when he is kidnapped off the train en route to a possible new job. His apparent new calling is to Joanna Robbin's abandoned church and to help her ex-outlaw father find the light.

I liked the way the book was set up with Crockett's being kidnapped and how everything in the book played together. What I really liked was the way the minor characters interacted with the main characters. I could see the character development of even the minor ones.

My one complaint and it will seem like a funny one: a little too much preaching - I know the main character is a preacher! For me personally, the sermons and God talk can get a little much. However, whilst it detracted from the book, it didn't take away my overall enjoyment.

Thank you to NetGalley for a copy of this novel for review.  I was in no way obliged to give a positive 
review.
{{review.title}}
By {{review.author.name}},

{{review.reviewCreatedDate | date:'MMM dd yyyy'}}

{{reviewdescription}}
{{review.text}}
---
Other Titles In The "Brides Of Texas Series" Series View All