Step By Step (#02 in Crisis Team Series)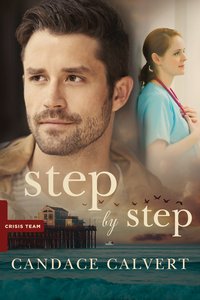 Three years after a tragic accident left her a widow, ER nurse Taylor Cabot is determined to move on, checking off one item after another on her survival list. Her relationship with a handsome plastic surgeon even gives her hope for the last point??fall in love again.? At least until crisis chaplain Seth Donovan steps back into her life, reawakening unanswered questions about her husband's death.

While in San Diego to train community volunteers, Seth hopes to learn why Taylor is backing away from the crisis team and from their friendship. But nothing prepares him for the feelings that arise when he sees Taylor again ... and sees her moving on with another man.

When a community crisis hits home and puts lives at risk, emotions run high and buried truths are unearthed. Will hope make the survival list?

- Publisher
You May Also Be Interested In
About "Step By Step (#02 in Crisis Team Series)"
Three years after a tragic accident left her a widow, ER nurse Taylor Cabot is determined to move on, checking off one item after another on her survival list. Her relationship with a handsome plastic surgeon even gives her hope for the last point??fall in love again.? At least until crisis chaplain Seth Donovan steps back into her life, reawakening unanswered questions about her husband's death.

While in San Diego to train community volunteers, Seth hopes to learn why Taylor is backing away from the crisis team and from their friendship. But nothing prepares him for the feelings that arise when he sees Taylor again ... and sees her moving on with another man.

When a community crisis hits home and puts lives at risk, emotions run high and buried truths are unearthed. Will hope make the survival list?
- Publisher


Meet the Author
Candace Calvert
Candace Calvert is an ER nurse who landed on the "other side of the stethoscope" after the equestrian accident that broke her neck and convinced her that love, laughter--and faith--are the very best medicines of all. The inspirational account of her accident and recovery appears in Chicken Soup for the Nurse's Soul and launched her writing career.


The author of a madcap cruise mystery series in the secular market, Candace now eagerly follows her heart to write Christian fiction for Tyndale House. Her new medical drama series offers readers a chance to "scrub in" on the exciting world of emergency medicine, along with charismatic characters, pulse-pounding action, tender romance, humor, suspenseand a soul-soothing prescription for hope.
Some of her titles include Disaster Status; Code Triage and Critical Care Wife, mother, and very proud grandmother, Candace makes her home in northern California. Please visit her Web site at www.candacecalvert.com.
Other Titles In The "Crisis Team Series" Series