Stepping Into Sunlight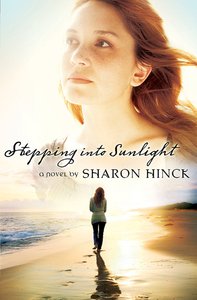 After Penny Sullivan witnesses a shocking crime, her world tips sideways. Suddenly things like getting groceries, mowing the grass, and returning phone calls are more than she can handle. But with her husband away at sea and her seven-year-old son depending on her, hiding in the closet isn't an option. Hoping to recover by the time her husband gets home, she picke up her trusty yellow notebook and formulates a restoration plan: Do one kind thing for another person every day. The results are sometimes funny, sometimes heartbreaking, and often brilliantly surprising...

"It's official--if the book says Sharon Hinck on the spine, I'm buying it!"--Kathryn Mackel, bestselling authorSharon Hinck is a wife and mother of four. She holds an M.A. in Communication from Regent University and spent ten years as the artistic director of a Christian performing arts group. She has also worked as a professional choreographer and classical ballet teacher. Now, she writes full-time and enjoys speaking at conferences, retreats, and church gatherings. She and her family live in Bloomington, Minnesota.
You May Also Be Interested In
About "Stepping Into Sunlight"
After Penny Sullivan witnesses a shocking crime, her world tips sideways. Suddenly things like getting groceries, mowing the grass, and returning phone calls are more than she can handle. But with her husband away at sea and her seven-year-old son depending on her, hiding in the closet isn't an option. Hoping to recover by the time her husband gets home, she picke up her trusty yellow notebook and formulates a restoration plan: Do one kind thing for another person every day. The results are sometimes funny, sometimes heartbreaking, and often brilliantly surprising...

"It's official--if the book says Sharon Hinck on the spine, I'm buying it!"--Kathryn Mackel, bestselling authorSharon Hinck is a wife and mother of four. She holds an M.A. in Communication from Regent University and spent ten years as the artistic director of a Christian performing arts group. She has also worked as a professional choreographer and classical ballet teacher. Now, she writes full-time and enjoys speaking at conferences, retreats, and church gatherings. She and her family live in Bloomington, Minnesota.
- Koorong

After Penny Sullivan witnesses a shocking crime, her world tips sideways. Suddenly things like getting groceries, mowing the grass, and returning phone calls are more than she can handle. But with her husband away at sea and her seven-year-old son depending on her, hiding in the closet isn't an option. Hoping to recover by the time her husband gets home, she picke up her trusty yellow notebook and formulates a restoration plan: Do one kind thing for another person every day. The results are sometimes funny, sometimes heartbreaking, and often brilliantly surprising...

"It's official--if the book says Sharon Hinck on the spine, I'm buying it!"--Kathryn Mackel, bestselling author
- Publisher


Meet the Author
Sharon Hinck
Debut novelist SHARON HINCK is a wife and mother of four children who generously provide her with material for her books. She has been the artistic director of a Christian performing arts group, a church youth worker, a choreographer and ballet teacher, a home-school mom, a church organist, and a freelance writer. When she isn???t writing, Sharon manages a direct sales craft business and enjoys speaking at conferences, retreats, and church gatherings. She lives in Bloomington, Minnesota. A