Stick a Geranium in Your Hat and Be Happy! (2004)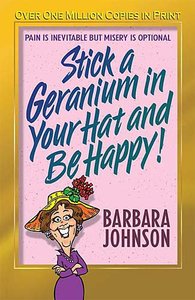 A newly revised edition of the million-seller that launched Barbara Johnson's career.

"Pain is inevitable but misery is optional," says Barbara Johnson, and she should know. The survivor of four devastating experiences, Barbara, with the wit of Erma Bombeck, teaches how to find joy in the midst of it all. Her "credentials" open doors and provide insight to all those who suffer from the difficulties of life.

And this million copy edition is proof that the message holds true! Parents of prodigals and those who have suffered the greatest loss of all, the loss of a loved one, have all proclaimed with a smile, "This book has saved my life!"

Barbara's "pain" began when her husband was in a near-fatal accident. While he slowly recovered from severe, debilitating injures, they lost one son in Vietnam, and another son in an automobile accident. The final blow was losing their third son to the homosexual lifestyle. Through Barbara's final desperate plea to God of "Whatever, Lord . . . " a bubble of joy came to replace the elephant she felt sitting on her heart.

But life continues and so have the opportunities to practice what she preaches. Barbara was diagnosed with adult-onset diabetes and then most recently a cancerous brain tumour. Despite her difficulties, she continues to model that though pain is inevitable to us all, we can choose to see the flowers instead of the weeds.


- Publisher
You May Also Be Interested In
About "Stick a Geranium in Your Hat and Be Happy! (2004)"
A newly revised edition of the million-seller that launched Barbara Johnson's career.

"Pain is inevitable but misery is optional," says Barbara Johnson, and she should know. The survivor of four devastating experiences, Barbara, with the wit of Erma Bombeck, teaches how to find joy in the midst of it all. Her "credentials" open doors and provide insight to all those who suffer from the difficulties of life.

And this million copy edition is proof that the message holds true! Parents of prodigals and those who have suffered the greatest loss of all, the loss of a loved one, have all proclaimed with a smile, "This book has saved my life!"

Barbara's "pain" began when her husband was in a near-fatal accident. While he slowly recovered from severe, debilitating injures, they lost one son in Vietnam, and another son in an automobile accident. The final blow was losing their third son to the homosexual lifestyle. Through Barbara's final desperate plea to God of "Whatever, Lord . . . " a bubble of joy came to replace the elephant she felt sitting on her heart.

But life continues and so have the opportunities to practice what she preaches. Barbara was diagnosed with adult-onset diabetes and then most recently a cancerous brain tumour. Despite her difficulties, she continues to model that though pain is inevitable to us all, we can choose to see the flowers instead of the weeds.

- Publisher


Meet the Author
Barbara Johnson
Barbara Johnson, known as "the Geranium Lady" sold more than five million books, including Splashes of Joy in the Cesspools of Life, Living Somewhere Between Estrogen and Death, and Stick a Geranium in Your Hat and Be Happy and her latest book Humour Me, I'm Over the Hill, part of her more recent, Humour Me series. In 2005 she was awarded the prestigious Lifetime Achievement Award by the Evangelical Christian Publishers Association. Barbara and her husband served hurting families through their non-profit "Spatula Ministries" and as a popular "Woman of Faith" conference speaker she delivered comforting, humour-filled messages across America. Barbara died in 2007 and is survived by her sons David and Dean, former daughter-in-law Shannon, and two grandchildren, Kandee and Tiffany.- Publisher.
Customer Reviews For "Stick a Geranium in Your Hat and Be Happy! (2004)"
Write Your Own Review
be happy
By beth,

Aug 06 2016
i really like thease  books great and funny stories to enjoy 
{{review.title}}
By {{review.author.name}},

{{review.reviewCreatedDate | date:'MMM dd yyyy'}}

{{reviewdescription}}
{{review.text}}
---