Sticky Teams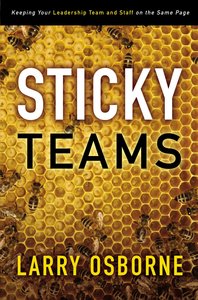 Serving as a church leader can be a tough assignment. Whatever your role, odds are you've known your share of the frustration, conflict, and disillusionment that comes with silly turf battles, conflicting vision, and marathon meetings. No doubt, you've asked yourself, ?How did it get this way?? With practical and accessible wisdom, Larry Osborne explains how it got this way. He exposes the hidden roadblocks, structures, and goofy thinking that sabotage even the best intentioned teams. Then with time-tested and proven strategies he shows what it takes to get (and keep) a board, staff, and congregation on the same page. Whatever your situation; from start-up phase, to mid-sized, to megachurch, Osborne has been there. As the pastor of North Coast Church he's walked his board, staff, and congregation through the process. Now with warm encouragement and penetrating insights he shares his secrets to building and maintaining a healthy and unified ministry team that sticks together for the long haul.

- Publisher
You May Also Be Interested In
About "Sticky Teams"
Serving as a church leader can be a tough assignment. Whatever your role, odds are you've known your share of the frustration, conflict, and disillusionment that comes with silly turf battles, conflicting vision, and marathon meetings. No doubt, you've asked yourself, ?How did it get this way?? With practical and accessible wisdom, Larry Osborne explains how it got this way. He exposes the hidden roadblocks, structures, and goofy thinking that sabotage even the best intentioned teams. Then with time-tested and proven strategies he shows what it takes to get (and keep) a board, staff, and congregation on the same page. Whatever your situation; from start-up phase, to mid-sized, to megachurch, Osborne has been there. As the pastor of North Coast Church he's walked his board, staff, and congregation through the process. Now with warm encouragement and penetrating insights he shares his secrets to building and maintaining a healthy and unified ministry team that sticks together for the long haul.
- Publisher


Meet the Author
Larry Osborne
Larry Osborne (DMin.,Talbot Theological Seminary) is a teaching pastor at North Coast Church in northern San Diego County. North Coast is widely recognized as one of the most influential and innovative churches in America. Osborne speaks extensively on the subjects of leadership and spiritual formation. He and his wife, Nancy, live in Oceanside, California.