Still Lolo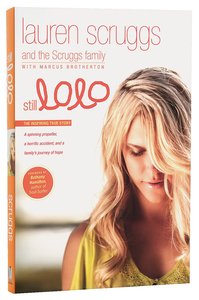 For fashion journalist Lauren (?LoLo?) Scruggs, a short flight to look at Christmas lights turned into a nightmare when she was struck by the plane?s spinning propeller blades. As Lauren was rushed to the hospital, the world watched in shock and horror. Several major surgeries and thousands of prayers later, Lauren was still alive. But she had suffered brain trauma and lost her left hand and left eye. And she had to face some incredibly difficult questions: What kind of future will I have? Where is God in all this pain? Will anyone ever be able to love me now? In Still LoLo, Lauren and her family reveal what really happened that night, what Lauren?s life is like today, what got them through their journey toward healing, and how they conquered all odds to persevere as a family. Containing exclusive photos and personal stories from Lauren and her family, Still LoLo is a compelling and fiercely beautiful account of faith, determination, and staying true to who you are?no matter what.

- Publisher
You May Also Be Interested In
About "Still Lolo"
For fashion journalist Lauren (?LoLo?) Scruggs, a short flight to look at Christmas lights turned into a nightmare when she was struck by the plane?s spinning propeller blades. As Lauren was rushed to the hospital, the world watched in shock and horror. Several major surgeries and thousands of prayers later, Lauren was still alive. But she had suffered brain trauma and lost her left hand and left eye. And she had to face some incredibly difficult questions: What kind of future will I have? Where is God in all this pain? Will anyone ever be able to love me now? In Still LoLo, Lauren and her family reveal what really happened that night, what Lauren?s life is like today, what got them through their journey toward healing, and how they conquered all odds to persevere as a family. Containing exclusive photos and personal stories from Lauren and her family, Still LoLo is a compelling and fiercely beautiful account of faith, determination, and staying true to who you are?no matter what.
- Publisher


Meet the Authors
Lauren Scruggs
Lauren Scruggs is the founder and editor of LOLO Magazine, an online lifestyle hub that unites all things fashion, beauty, and health. She was an intern in the wardrobe department for CW's "Gossip Girl", and reported for the New York, Paris, and Montreal Fashion Weeks. Along with Bethany Hamilton, Lauren started a yearly retreat for girls who have lost a limb to create a community and encourage others on their journey.
Marcus Brotherton
Marcus Brotherton worked in youth ministry for nearly a decade before switching to writing fulltime. He holds a master's degree in practical theology from Talbot Seminary.
Bethany Hamilton
Since losing her arm, Bethany has chosen to use her experience to become an inspiration and help others to overcome adversity, no matter how great. "People I don't even know come up to me. I guess they see me as a symbol of courage and inspiration. One thing hasn't changed - and that's how I feel when I'm riding a wave."