Stir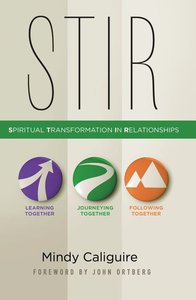 In the past, church leaders have turned to small groups or other kinds of discipleship programs to encourage spiritual growth in their churches. Yet despite good intentions, the deeper spiritual life and transformation they had hoped for remained elusive. STIR calls church leaders to reclaim an essential, biblical truth---that the process of spiritual growth is more than a one-size-fits-all program, it happens best through intentional relationships with others in the body of Christ. Three distinct, sequential stages of spiritual development typically occur as people mature in their spiritual walk with Christ, and they need different kinds of relationships to support their growth through those different seasons. STIR describes those stages---learning together, journeying together, and following together---and shows how progress into and through these stages is best made in the context of relationships that change in nature over time. Readers will learn how to intentionally establish and strengthen the unique kinds of relationships that are catalytic for growth at each stage of their journey. Church leaders will come away with a new paradigm for encouraging spiritual formation in their local church by providing appropriate encouragement and support to people at all stages of growth.

- Publisher
You May Also Be Interested In
About "Stir"
In the past, church leaders have turned to small groups or other kinds of discipleship programs to encourage spiritual growth in their churches. Yet despite good intentions, the deeper spiritual life and transformation they had hoped for remained elusive. STIR calls church leaders to reclaim an essential, biblical truth---that the process of spiritual growth is more than a one-size-fits-all program, it happens best through intentional relationships with others in the body of Christ. Three distinct, sequential stages of spiritual development typically occur as people mature in their spiritual walk with Christ, and they need different kinds of relationships to support their growth through those different seasons. STIR describes those stages---learning together, journeying together, and following together---and shows how progress into and through these stages is best made in the context of relationships that change in nature over time. Readers will learn how to intentionally establish and strengthen the unique kinds of relationships that are catalytic for growth at each stage of their journey. Church leaders will come away with a new paradigm for encouraging spiritual formation in their local church by providing appropriate encouragement and support to people at all stages of growth.
- Publisher


Meet the Author
Mindy Caliguire
Mindy Caliguire is founder and president of Soul Care, a spiritual formation ministry. She was formerly on staff in the area of spiritual formation at Willow Creek Community Church and continues as a member there. Mindy is a frequent speaker and retreat leader, working with groups such as the Spiritual Formation Alliance. Her books include Faith Books & Spiritual Journaling (with Sharon Soneff) and Write for Your Soul: The Whys and Hows of Journaling (with Jeff Caliguire). Most recently she has authored four books in the Soul Care Resources Series, including Discovering Soul Care, Simplicity, Soul Searching, and Spiritual Friendship.
Kooorng - Editorial Review.
Table Of Contents
Tentative Table Of Contents

Introduction

1.the Race Set Before Us

2.running Buddies

3.foundation-laying

4.inner-journeying

5.life-long-following

6.coaching Others Well

7.tips From The Road

8.the Prize