Stories Behind the Great Traditions of Christmas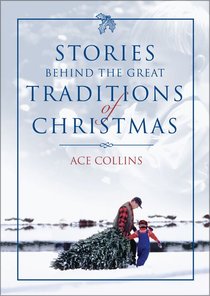 The cheer of a crackling hearth fire. Colorful cards from friends and loved ones. An evergreen tree festooned with ornaments.The golden traditions of Christmas--gifts, wreaths, stockings, carols, mistletoe, and more--infuse our celebration of the season with meaning and glowing memories. And, in ways you may not realize, they point us to the birth of Christ.Stories Behind the Great Traditions of Christmas reveals the people, places, and events that shaped the best-loved customs of this merriest of holidays. Here are spiritual insights, true-life tales, and captivating legends to intrigue you and your family and bring new luster and depth to your celebration of Jesus' birth. Discover how- after eighteen centuries of all but ignoring the event, churches began to open the door for believers to commemorate Jesus' incarnation.- the evergreen tree, once a central theme in the worship practices of pagan cultures, came to represent the everlasting love of God.- the magi's three gifts--gold, f

- Publisher The fascinating stories and origins behind Christmas traditions such as the colors of red and green, the Christmas tree, caroling, nativity scenes, the Yule log, gift-giving, stockings, advent wreaths, mistletoe, and holly.

- Publisher
You May Also Be Interested In
About "Stories Behind the Great Traditions of Christmas"
The cheer of a crackling hearth fire. Colorful cards from friends and loved ones. An evergreen tree festooned with ornaments.The golden traditions of Christmas--gifts, wreaths, stockings, carols, mistletoe, and more--infuse our celebration of the season with meaning and glowing memories. And, in ways you may not realize, they point us to the birth of Christ.Stories Behind the Great Traditions of Christmas reveals the people, places, and events that shaped the best-loved customs of this merriest of holidays. Here are spiritual insights, true-life tales, and captivating legends to intrigue you and your family and bring new luster and depth to your celebration of Jesus' birth. Discover how- after eighteen centuries of all but ignoring the event, churches began to open the door for believers to commemorate Jesus' incarnation.- the evergreen tree, once a central theme in the worship practices of pagan cultures, came to represent the everlasting love of God.- the magi's three gifts--gold, f
- Publisher

The fascinating stories and origins behind Christmas traditions such as the colors of red and green, the Christmas tree, caroling, nativity scenes, the Yule log, gift-giving, stockings, advent wreaths, mistletoe, and holly.
- Publisher


Meet the Author
Ace Collins
Ace Collins is the writer of more than sixty books, including several bestsellers: Stories Behind the Best-Loved Songs Of Christmas, Stories Behind the Great Traditions of Christmas, The Cathedrals, and Lassie: A Dog's Life. Based in Texas, he continues to publish several new titles each year, most recently Farraday Road. He has appeared on scores of television shows, including CBS This Morning, NBC Nightly News, Good Morning America, and Entertainment Tonight, along with appearances on CNN and MSNBC.
Koorong - Editorial Review.