Storm (#03 in Soul Surfer Series)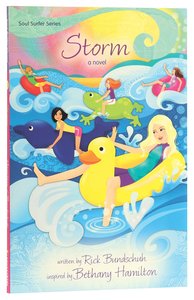 $

9.99

$

7.99
You Save: $2.00 (20%)
Paperback
It took real faith and courage to get Bethany back on a surfboard after losing her arm to a shark. In this new four-book fiction series based on the life of surfer star Bethany Hamilton, Bethany and her friends discover God's love and guidance as they tackle the waves that life hands them.In Storm, Bethany helps a young family lost on the Hanakapiai Trail. As Bethany's youth group struggles to raise funds for a mission trip, her small act of kindness blesses them all.

- Publisher
You May Also Be Interested In
About "Storm (#03 in Soul Surfer Series)"
It took real faith and courage to get Bethany back on a surfboard after losing her arm to a shark. In this new four-book fiction series based on the life of surfer star Bethany Hamilton, Bethany and her friends discover God's love and guidance as they tackle the waves that life hands them.In Storm, Bethany helps a young family lost on the Hanakapiai Trail. As Bethany's youth group struggles to raise funds for a mission trip, her small act of kindness blesses them all.
- Publisher


Meet the Author
Rick Bundschuh
Rick Bundschuh is a youth expert, writer, speaker, and cartoonist. His cartoon was featured in Surfer Magazine for 6 years. He is also the pastor of Kauai Christian Fellowship as well as the manager for the band Spooky Tuesday which his son Justin plays with.. He is the former Creative Director for Youth Resources at Gospel Light Publications.With a cartoon style design to many of his books, Rick helps youth leaders capture the attention of the teens they work with. His titles include Micro Messages, which contains 30 reproducible tracts and single page lessons; Velcro Teaching: Making God's Word Stick in the Lives of Your Teens, Big Gulp: Adventures of a Reluctant Missionary (a study of Jonah for high school students), Kickstarters (101 introductions to lessons), and Talk Sheets on Psalms and Proverbs (lessons or lesson enhancers for both high school and junior high students). His upcoming book Passed Thru Fire, contains ideas to keep boys interested in church where they can be guided to godly manhood.
Other Titles In The "Soul Surfer Series" Series View All