Storm Front (#05 in Montana Rescue Series)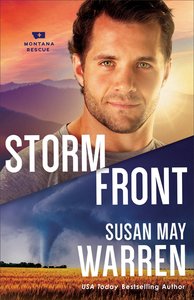 A tornado has destroyed a small Minnesota community and among the missing are not only a group of students but PEAK Rescue team leader Chet King. Ty Remington will stop at nothing to rescue his mentor, not even when the girl he loved--and lost--walks back into his life. But Brette needs his help more than he knows, despite her stubborn determination to push him away. And when he gets a second chance, loving her just might cost him more than he can imagine.

A blogger for Vortex Storm Chasers, Brette Arnold didn't expect her adventures to land her in the same place as Ty, the guy who she walked--no, ran--from over a year ago. She had her reasons--good ones. The kind that tell her that falling for him again would only lead to heartache. But Ty isn't the kind of man to give up--not on the missing students, or on her.

Life and love hang in the balance in Susan May Warren's breathless story of holding on to hope during a deadly summer of storms.

- Publisher
You May Also Be Interested In
About "Storm Front (#05 in Montana Rescue Series)"
A tornado has destroyed a small Minnesota community and among the missing are not only a group of students but PEAK Rescue team leader Chet King. Ty Remington will stop at nothing to rescue his mentor, not even when the girl he loved--and lost--walks back into his life. But Brette needs his help more than he knows, despite her stubborn determination to push him away. And when he gets a second chance, loving her just might cost him more than he can imagine.

A blogger for Vortex Storm Chasers, Brette Arnold didn't expect her adventures to land her in the same place as Ty, the guy who she walked--no, ran--from over a year ago. She had her reasons--good ones. The kind that tell her that falling for him again would only lead to heartache. But Ty isn't the kind of man to give up--not on the missing students, or on her.

Life and love hang in the balance in Susan May Warren's breathless story of holding on to hope during a deadly summer of storms.
- Publisher


Meet the Author
Susan May Warren
Susan Warren recently returned home after serving eight years with her husband and four children as missionaries in Khaborovsk in Far East Russia. Susan holds a BA in mass communications from the University of Minnesota and is a multipublished author of novellas and novels. Susan has an amazing gift for writing complex plots and weaving powerful Christian content throughout her stories. She and her family live in Northern Minnesota.
Other Titles In The "Montana Rescue Series" Series View All