Straight Talk on Depression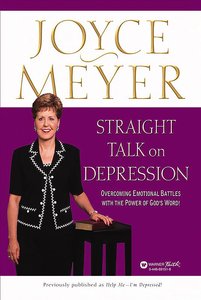 Joy Stays When It Comes God's Way! Do you consistently experience hopelessness and boredom for no apparent reason? Or have you experienced so many disappointments you can't seem to pull yourself out of despair? Whatever the reason for depression, the source is always the same-Satan is ultimately behind it all. Bestselling author Joyce Meyer brings powerful insight from the Scriptures and from her own experience to help you win over depression! You will discover how to walk by faith and not by feelings, the power of willful rejoicing, and the vital role of forgiveness. As believers, joy is not something we try to manufacture-it is something already within us waiting to be released. The victory over depression is yours through Jesus Christ. Rise up in His power and take back your position of joy and freedom today!

- Publisher
You May Also Be Interested In
About "Straight Talk on Depression"
Joy Stays When It Comes God's Way! Do you consistently experience hopelessness and boredom for no apparent reason? Or have you experienced so many disappointments you can't seem to pull yourself out of despair? Whatever the reason for depression, the source is always the same-Satan is ultimately behind it all. Bestselling author Joyce Meyer brings powerful insight from the Scriptures and from her own experience to help you win over depression! You will discover how to walk by faith and not by feelings, the power of willful rejoicing, and the vital role of forgiveness. As believers, joy is not something we try to manufacture-it is something already within us waiting to be released. The victory over depression is yours through Jesus Christ. Rise up in His power and take back your position of joy and freedom today!
- Publisher


Meet the Author
Joyce Meyer
Joyce Meyer is one of the world's leading practical Bible teachers. A New York Times bestselling author, her books have helped millions of people find hope and restoration through Jesus Christ. Time magazine has identified her as one of the most influential evangelical leaders in America.

Through Joyce Meyer Ministries, she teaches on hundreds of subjects and has authored over 100 books, which have been translated into over 100 different languages. More than 32 million of her books have been distributed free of charge around the world, and each year, millions more copies are sold. The missions arm of Joyce Meyer Ministries, Hand of Hope, undertakes outreach around the globe, including food provision, medical aid, homes for orphans, and programs targeting human trafficking. In their hometown, Joyce and her husband Dave also operate the St Louis Dream Center, a hands-on inner city ministry.

Each year, Joyce conducts a dozen conferences - both in the US and internationally - teaching practical principles from God's Word that help people to enjoy their everyday lives to the full. For over three decades, Joyce's annual women's conference has attracted thousands of women from all over the world to her hometown St Louis, Missouri. Joyce also has a television and radio show, Enjoying Everyday Life, which is broadcast worldwide to a potential audience of 4.5 billion people.

Joyce was born Pauline Joyce Hutchison in St Louis in 1943. From childhood, she had a born-again faith, but suffered sexual abuse at home, then an abusive first marriage that involved her in petty crime. She married Dave Meyer in 1967, and experienced an anointing in the spirit in 1976 after intense prayer. During the 1980s, Joyce built a local reputation as a popular Bible teacher, and started her own radio ministry. At her husband Dave's suggestion, she commenced her television ministry in 1993.

Over the years, God has provided Joyce with many opportunities to share her testimony and the life-changing message of the Gospel. From her battle with breast cancer to the struggles of everyday life, Joyce speaks openly and practically about her experiences so others can apply what she has learned to their lives. Hers is an incredible testimony of the dynamic, redeeming work of Jesus Christ. She believes and teaches that regardless of a person's background or past mistakes, God has a place for them and can help them on their path to enjoying everyday life.

Joyce holds an earned PhD in theology from Life Christian University in Tampa, Florida; an honorary doctorate in divinity from Oral Roberts University in Tulsa, Oklahoma; and an honorary doctorate in sacred theology from Grand Canyon University in Phoenix, Arizona.

Joyce and her husband Dave are the parents of four grown children and they make their home in St. Louis, Missouri.