Straight Talk on Spiritual Power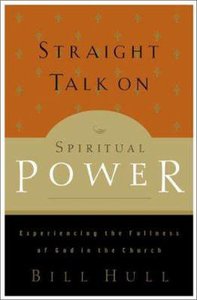 Careful scriptural examination of speaking in tongues, Spirit baptism, healing, prophecy, and miracles that affirms the Holy Spirit's full ministry today.

- Publisher Every church wants to experience the fullness of God, but many feel discomfort and confusion when the question of gifts of the Holy Spirit is raised. What does it mean to move in the power of the Holy Spirit? Isn\u2019t the issue of gifts of the Spirit divisive to evangelical churches?Straight Talk on Spiritual Power begins with Bill Hull\u2019s own theological journey from being a student at a charismatic university to a cessationist to a pastor with a moderate position affirming the full ministry of the Holy Spirit in the church today. Using Jesus as the ultimate model, Hull searches the Scriptures and finds a consistent balance between the Word of God and the power of the Spirit. He shares the gradual change in his own church as it grew to experience the gospel with power, the Holy Spirit, and deep conviction.Conscious of the fears and confusion often surrounding this topic, Hull carefully looks at topics such as speaking in tongues, baptism in the Holy Spirit, healing, prophecy, and miracles, and offers thorough scriptural as well as practical instruction.

- Publisher
You May Also Be Interested In
About "Straight Talk on Spiritual Power"
Careful scriptural examination of speaking in tongues, Spirit baptism, healing, prophecy, and miracles that affirms the Holy Spirit's full ministry today.
- Publisher

Every church wants to experience the fullness of God, but many feel discomfort and confusion when the question of gifts of the Holy Spirit is raised. What does it mean to move in the power of the Holy Spirit? Isn\u2019t the issue of gifts of the Spirit divisive to evangelical churches?Straight Talk on Spiritual Power begins with Bill Hull\u2019s own theological journey from being a student at a charismatic university to a cessationist to a pastor with a moderate position affirming the full ministry of the Holy Spirit in the church today. Using Jesus as the ultimate model, Hull searches the Scriptures and finds a consistent balance between the Word of God and the power of the Spirit. He shares the gradual change in his own church as it grew to experience the gospel with power, the Holy Spirit, and deep conviction.Conscious of the fears and confusion often surrounding this topic, Hull carefully looks at topics such as speaking in tongues, baptism in the Holy Spirit, healing, prophecy, and miracles, and offers thorough scriptural as well as practical instruction.
- Publisher


Meet the Author
Bill Hull
Bill Hull's efforts as a pastor and writer have been focused on being a disciple and making disciples. He has written several groundbreaking books for leaders and churches. Bill and his wife, Jane, have been married since 1969 and are the parents of two grown sons.