Straight Talk on Stress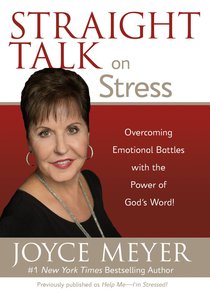 Enjoy Life Even in the Midst of Stress!
Are you peaceful and happy one minute and ready to explode the next? Perhaps you are always exhausted, even after a full night s sleep. Chances are you are under too much stress. You are not alone! It is impossible to live in this world and not encounter stress. However, we often push ourselves to levels beyond what is normal until our bodies reach a breaking point.
In this powerful little book, bestselling author Joyce Meyer outlines biblical truths that will help you overcome your stressful situations as you learn how to recognize the telltale signs of tension. Discover how you can manage stress and learn to bend so you won t break. Joyce also shares the value of learning to say no, along with vital keys to avoid burnout.
Find out how to live life as a human being rather than as a human doing! Take control over stress and start enjoying life today!

- Publisher
You May Also Be Interested In
About "Straight Talk on Stress"
Enjoy Life Even in the Midst of Stress!
Are you peaceful and happy one minute and ready to explode the next? Perhaps you are always exhausted, even after a full night s sleep. Chances are you are under too much stress. You are not alone! It is impossible to live in this world and not encounter stress. However, we often push ourselves to levels beyond what is normal until our bodies reach a breaking point.
In this powerful little book, bestselling author Joyce Meyer outlines biblical truths that will help you overcome your stressful situations as you learn how to recognize the telltale signs of tension. Discover how you can manage stress and learn to bend so you won t break. Joyce also shares the value of learning to say no, along with vital keys to avoid burnout.
Find out how to live life as a human being rather than as a human doing! Take control over stress and start enjoying life today!
- Publisher


Meet the Author
Joyce Meyer
Joyce Meyer is one of the world's leading practical Bible teachers. A New York Times bestselling author, her books have helped millions of people find hope and restoration through Jesus Christ. Time magazine has identified her as one of the most influential evangelical leaders in America.

Through Joyce Meyer Ministries, she teaches on hundreds of subjects and has authored over 100 books, which have been translated into over 100 different languages. More than 32 million of her books have been distributed free of charge around the world, and each year, millions more copies are sold. The missions arm of Joyce Meyer Ministries, Hand of Hope, undertakes outreach around the globe, including food provision, medical aid, homes for orphans, and programs targeting human trafficking. In their hometown, Joyce and her husband Dave also operate the St Louis Dream Center, a hands-on inner city ministry.

Each year, Joyce conducts a dozen conferences - both in the US and internationally - teaching practical principles from God's Word that help people to enjoy their everyday lives to the full. For over three decades, Joyce's annual women's conference has attracted thousands of women from all over the world to her hometown St Louis, Missouri. Joyce also has a television and radio show, Enjoying Everyday Life, which is broadcast worldwide to a potential audience of 4.5 billion people.

Joyce was born Pauline Joyce Hutchison in St Louis in 1943. From childhood, she had a born-again faith, but suffered sexual abuse at home, then an abusive first marriage that involved her in petty crime. She married Dave Meyer in 1967, and experienced an anointing in the spirit in 1976 after intense prayer. During the 1980s, Joyce built a local reputation as a popular Bible teacher, and started her own radio ministry. At her husband Dave's suggestion, she commenced her television ministry in 1993.

Over the years, God has provided Joyce with many opportunities to share her testimony and the life-changing message of the Gospel. From her battle with breast cancer to the struggles of everyday life, Joyce speaks openly and practically about her experiences so others can apply what she has learned to their lives. Hers is an incredible testimony of the dynamic, redeeming work of Jesus Christ. She believes and teaches that regardless of a person's background or past mistakes, God has a place for them and can help them on their path to enjoying everyday life.

Joyce holds an earned PhD in theology from Life Christian University in Tampa, Florida; an honorary doctorate in divinity from Oral Roberts University in Tulsa, Oklahoma; and an honorary doctorate in sacred theology from Grand Canyon University in Phoenix, Arizona.

Joyce and her husband Dave are the parents of four grown children and they make their home in St. Louis, Missouri.